The role of peasan organizations in the professionnalization of agriculture : the case study of Cameroon
Le rôle des organisations paysannes dans la professionnalisation de l'agriculture en afrique subsaharienne : le cas du Cameroun.
In all continents and especially in the sub Saharan countries, farmers organizations have always been at the center of development policies in agriculture. These farmers' organizations in Cameroon though many in number and diversified, are subject to particular attention by public authorities, who close to four decades today are putting in place development programs with main objective, being the support to professionalization of agriculture through the organization and the structuring of the rural milieu. This research analyses the role of farmers' organizations in the professionalization of agriculture. It treats and clarifies the notion of agricultural professionalization and farmer organizations using a sociological approach and put into evidence the logic of programs with focus on professionalization. It also treats the dynamics of farmer organizations in agriculture in Cameroon. The study is based on data from the observation of farmer's organizations dynamics in Cameroon from the year 1994 to 2012, and also, the follow up of initiatives of support projects to farmer organizations and the agriculture sub-sectors. Data collected is also from a survey carried out in 70 farmer organizations in the West, North West, South West, Littoral and South regions of Cameroon. These surveys permitted group discussions with about 350 farmers from different farmer organizations, and enabled particularly more elaborate discussions with 20 leaders of farmer's organizations on their experience and nature of leadership. On the basis of results obtained, it was established that the professionalization of agriculture is inscribed in the new logic of the supply of innovations proposed by development partners, with the aim of contributing to a more competitive agriculture sector in sub Saharan Africa." Last and final summary in the thesis.
Dans tous les continents et en particulier dans les pays d'Afrique subsaharienne, les organisations paysannes ont toujours été au centre des politiques de développement de l'agriculture. Nombreuses et diversifiées, les organisations paysannes du Cameroun font l'objet d'une attention particulière de la part des pouvoirs publics qui depuis près de quatre décennies mettent en place des programmes de développement dont l'objectif principal est d'appuyer la professionnalisation de l'agriculture, à travers une structuration organisée du milieu rural. Le présent travail de recherche analyse le rôle des organisations paysannes dans la professionnalisation de l'agriculture. Il aborde et clarifie les notions de professionnalisation de l'agriculture et d'organisations paysannes à travers une approche sociologique et met en évidence la logique des programmes dits de professionnalisation, de même que les dynamiques d'organisation de producteurs agricoles qui évoluent au Cameroun. L'étude s'appuie sur des données d'observation des dynamiques d'organisations paysannes au Cameroun de 1994 à 2012 ainsi que du suivi des initiatives des projets d'appui aux organisations paysannes et aux filières agricoles. Les données collectées portent également sur une enquête réalisée auprès de 70 organisations paysannes dans les régions de l'Ouest, du Nord-ouest, du Sud-ouest, du Littoral et du Sud du Cameroun. Ces enquêtes ont permis de réaliser des entretiens de groupe avec environ 350 paysans issus d'organisations paysannes, et en particulier d'avoir des discussions plus approfondies avec 20 responsables d'organisations paysannes sur leur parcours et la nature de leur leadership. Sur la base des résultats obtenus, il a pu être établi que la professionnalisation de l'agriculture s'inscrit dans la logique des nouvelles offres « d'innovation » proposées par les partenaires du développement, avec pour objectif de contribuer au développement d'une agriculture plus performante dans les pays d'Afrique subsaharienne." [...] Suite et fin du résumé dans la thèse.
Fichier principal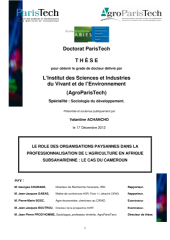 3384_-_ACHANCHO_2012_archivage.pdf (2.43 Mo)
Télécharger le fichier
Origin : Version validated by the jury (STAR)