The PAYSAGRI model
An experiment of farmers' landscape sensitivity as a factor of agricultural landscape changes
Le modèle PAYSAGRI
Expérimentation de la sensibilité au paysage des agriculteurs comme facteur des évolutions du paysage rural
Renewed interest in the general public for rural landscape implies improving the knowledge of landscaping practices among farmers. The PAYSAGRI model offers an innovative
representation of the relationship between landscape dynamics and agricultural activities. It suggests that farmer sensitivity to landscape-related issues is a factor in the maintenance of the vegetation cover in farming areas.

As the basic landscape unit, the agricultural plot is defined by its Functional Appearance Status (FAS), which informs the farmer of plot potential in terms of landscape and fodder. Each farming system is associated with both production and landscaping goals, the latter depending on the farmer's individual sensitivity to the landscape. While considered optimal, ordinary production practices impact the FAS. Every year, maintenance allows correcting the appearance of those plots that do not reflect the farmer's landscaping expectations. Also, maintenance activities
initiate a multi-year change in the farming system, so that set goals are reached more efficiently.

The simulations performed test the landscaping impact of various farming populations in a virtual environment including twenty farms. Each population is comprised of two types of farmers, in given proportions, with opposing landscape sensitivities. Significant differences observed emphasize the importance of landscape sensitivity as a major factor regarding the evolution of rural landscapes.
Le regain d'intérêt de la société pour les paysages ruraux implique une meilleure connaissance des pratiques paysagères des agriculteurs. Le modèle PAYSAGRI propose une représentation originale des évolutions d'un paysage rural sous l'effet des activités agricoles : il
suggère l'hypothèse d'une sensibilité au paysage de l'agriculteur comme facteur de l'entretien des couverts végétaux des surfaces agricoles.

La parcelle agricole, unité élémentaire choisie du paysage, est définie par un État Fonctionnel Physionomique (EFP), qui renseigne l'agriculteur sur ses potentialités fourragères et paysagères. Chaque système de production agricole est à la fois associé à un objectif de
production et à une finalité paysagère, dictée par la sensibilité au paysage de l'agriculteur. Les pratiques de production courante, considérées optimales, modifient les EFP du parcellaire. Chaque année, les pratiques d'entretien permettent de corriger les physionomies des parcelles agricoles inadaptées aux attentes paysagères de l'agriculteur ; elles initient également une modification pluriannuelle de la conduite du système de production agricole, afin de répondre plus justement aux objectifs fixés.

Les simulations réalisées testent l'impact paysager de différentes populations d'agriculteurs sur un territoire virtuel comportant vingt exploitations agricoles. Chaque population représente une proportion donnée des deux types d'agriculteurs, respectivement deux sensibilités au paysage opposées. Les différences significatives observées soulignent la pertinence de considérer la
sensibilité au paysage des agriculteurs comme un facteur important de la modification des paysages ruraux.
Fichier principal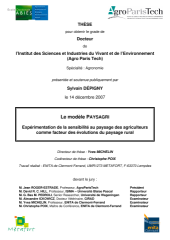 depigny_these_2007.pdf (12.22 Mo)
Télécharger le fichier
depigny_soutenance_20071214.ppt (28.17 Mo)
Télécharger le fichier