From diffusion and transfer models to deployment of innovation : a new conceptualization of the downstream phase of the innovation processes of multinational firms.
Des modèles de diffusion et de transfert de l'innovation à celui de déploiement : une conceptualisation nouvelle de la phase aval des processus d'innovation des firmes multinationale
In a context of increased globalization and the rise of new forces from so-called emerging markets, multinational corporations (MNCs) have developed new innovation strategies. In particular, one of the most considerable transformations has taken place in their innovation processes. MNCs must now face a multiplication of sources of innovation in terms of research and development (upstream phase of the innovation process). They also have to seize all the opportunities for commercialization and appropriation of innovations on a global scale (downstream phase) through their subsidiaries' network. The upstream phase of this process is complex and iterative in nature because of the integration of multiple and geographically dispersed knowledge. The result of this peculiarity of the MNC's innovation process is the embededness of innovation at a local level. This embedding makes the downstream phase also complex, not just a marketing process. Up to now the downstream phase has been centrally conceptualized and disembodied from an organizational point of view through the concepts of diffusion and transfer. These approaches do not capture changes in the MNC's innovation process and do not succed to frame empirical phenomena such as reverse innovation or the specialisation of subsidiaries in certain phases of the innovation process. It is through the study of a unique case, a large French MNC that we explored and analyzed this downstream phase. Thanks to this work, we have defined an integrative framework: the deployment of innovations. It is a process that includes sequencing of the commercialization of an innovation by subsidiaries located in differentiated local contexts and requiring each time to be adapted. This deployment is thus both spatial, because the innovation is utilized in different geographies, and temporal, because adaptations may take place over time. Deployment is therefore a concept that has a descriptive scope (understanding the downstream phase) but can also be utilized by companies (the means to be implemented to optimize this downstream phase). Our main results are based on three levels of analysis. First, at the level of deployment projects and communities to better understand the articulation of deployment between the organization and individuals. Then we put the stress on the skills needed for deployment with the idea that the MNCs must now think of a project deployment function. Finally, on the innovation strategy of MNCs, where we put the role of headquarter and subsidiaries in perspective.
Dans un contexte de mondialisation accrue et d'apparition de nouvelles forces issues des marchés dits émergents, les firmes multinationales (FMNs) ont développé des stratégies d'innovation novatrices. C'est en particulier au niveau des processus d'innovation que s'est opérée une des transformations les plus importantes. Elles doivent aujourd'hui faire face à une multiplication des sources d'innovation en matière de recherche et de développement (phase amont du processus d'innovation). Dans le même temps, les FMNs doivent aussi saisir toutes les opportunités de commercialisation et d'appropriation des innovations à l'échelle mondiale (phase aval) à travers leur réseau de filiales. La phase amont de ce processus est par nature complexe et itérative du fait de l'intégration de connaissances multiples et dispersées géographiquement. Cette particularité du processus d'innovation des FMNs se traduit par un encastrement de l'innovation à un niveau dit local. Cet encastrement rend alors la phase aval elle aussi très complexe, ne se limitant pas à une démarche uniquement marketing. Jusqu'ici, la phase aval a été conceptualisée de manière centralisée et désincarnée d'un point de vue organisationnel à travers les concepts de diffusion et de transfert. Ces approches ne permettent pas de rendre compte des modifications du processus d'innovation des FMNs et de comprendre des phénomènes empiriques tels que par exemple l'innovation inversée ou l'innovation dite frugale. C'est à travers l'étude d'un cas unique, une grande FMN française, que nous avons exploré et analysé cette phase aval. Grâce à ce travail, nous avons défini un cadre intégrateur: le déploiement des innovations. C'est un processus qui comprend l'enchaînement des commercialisations d'une innovation par des filiales situées dans des contextes locaux différenciés et nécessitant à chaque fois son adaptation. Ce déploiement est ainsi spatial, car l'innovation est exploitée dans différentes géographies, et temporel, car les adaptations peuvent s'étendre sur une durée. Nos principaux résultats s'articulent autour de trois niveaux d'analyses. Nous étudions d'abord les projets et communautés de déploiement pour mieux comprendre l'articulation du déploiement entre l'organisation et les individus. Ensuite, nous analysons le déploiement au niveau des individus et des compétences en défendant l'idée que la FMN doit aujourd'hui penser une fonction "chef de projet déploiement" en son sein. Enfin, nous nous positionnons au niveau de la stratégie d'innovation des FMNs en mettant en perspective le rôle du siège et celui des filiales.
Fichier principal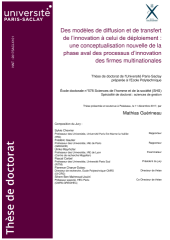 58726_GUERINEAU_2017_archivage.pdf (8.67 Mo)
Télécharger le fichier
Origin : Version validated by the jury (STAR)