Numerical modelling and characterization of multilayer mirror defects for coherent X-ray imaging applications
Modélisation numérique et caractérisation des défauts dans les miroirs multicouches en vue de leur application en imagerie X cohérente.
Multilayer mirrors find numerous X-ray applications in synchrotron and X-rays free electron lasers. These multilayers optical devices must take up new challenges raised with the upgrade these radiation sources. To study the origin of intensity contrast in reflected beam, experimental measurements and numerical modeling were performed.Several techniques for multilayer structure charactérization have been implemented at the ESRF beamline BM05. Measurements methods based on 'Rocking Curve Imaging' and 'theta/2theta' Imaging were performed and applied for the first time to multilayer mirrors. Measurements of the wavefront reflected by multilayers were performed using holography and near field speckle techniques. The results obtained allowed a better understanding of the phase effects induced by multilayer reflection of their origin and to reconstruct the topography of the height defects within a multilayer mirror using the numerical model developped in the course of this PhD thesis.A numerical model based on Takagi-Taupin equations was modified to account for defects present in the multilayer mirror structure. Simulations for simple defects were performed to evaluate performance and limits of the numerical model. The propagation and the coherence of the reflected beam were simulated. The measurement and simulation results show the main influence of defect heights on the generation of the intensity contrast observed. The simulations also lead to conclude the equivalency phase effect resulting of the same height defects in multilayers mirror structure and reflecting surface.These modelization and simulations results can be usefull to specify defect feature which minimise reflected intensity contrast. The new developped experimental technics will allows X-rays caracterization for next multilayer mirrors.
Les miroirs multicouches trouvent de nombreuses applications utilisant les rayons X produits par les synchrotrons et les lasers à électrons libres et doivent relever de nouveaux challenges apparus avec l'amélioration de ces sources de rayonnement. Pour étudier les causes des contrastes d'intensité produits dans le faisceau réfléchi, des mesures expérimentales et une modélisation numérique ont été effectuées.Plusieurs méthodes d'analyse de la structure des multicouches et du front d'onde réfléchi par un miroir multicouches ont été mises en œuvre sur la ligne de lumière BM05 de l'ESRF. Les méthodes de mesure de 'Rocking Curve Imaging' et 'theta/2theta Imaging' ont été appliquées et adaptées pour la première fois aux miroirs multicouches. Des mesures du front d'onde réfléchi par une multicouche ont aussi été effectuées à partir des techniques d'holographie et de tavelure en champ proche. Les résultats obtenus permettent de mieux comprendre les effets de phase produits par les multicouches ainsi que leurs origines et de reconstruire la topographie de défauts de hauteur d'un miroir multicouches par l'utilisation du modèle numérique développé durant cette thèse.Un modèle numérique basé sur les équations de Takagi-Taupin a été modifié pour tenir compte de défauts dans la structure multicouches d'un miroir. Des simulations de défauts simples ont été effectuées afin de caractériser les performances et les limites du modèle numérique. La propagation et la cohérence de faisceau réfléchi ont été simulées. Les résultats expérimentaux et simulés ont alors permis de montrer que les défauts de hauteur dans la structure multicouches des miroirs constituent la cause principale des contrastes d'intensité. Les simulations effectuées conduisent à conclure que les effets induits par les défauts de hauteur dans une multicouche sont analogues aux effets de phase produits par ces même défauts de hauteur sur une surface réfléchissante.Ces modèles et ces simulations peuvent être utiliser pour spécifier les caractéristiques des défaut de hauteur qui minimise la production du contraste d'intensité. Les techniques expérimentales développées permettront de caractériser avec les rayons X les futures multicouches.
Fichier principal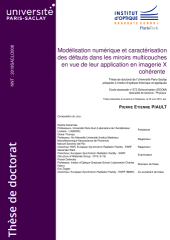 74950_PIAULT_2019_archivage.pdf (20.09 Mo)
Télécharger le fichier
Origin : Version validated by the jury (STAR)