Secondary airports in metropolitan France. A territorialized approach of trajectories between 1990 and 2016.
Les aéroports secondaires en France métropolitaine. Une approche territorialisée des trajectoires entre 1990 et 2016
The French airport landscape can be hierarchically divided into three groups of airports: the Parisian airports of Roissy-Charles de Gaulle and Orly, the regional airports with up to several million annual passengers serving the main French regional cities, and a set of airports with a wide variety of traffic serving mainly medium-sized cities. The thesis focuses on this last category of airports, which we describe as secondary in reference to their hierarchical position. Between the 1960s and the end of the 1980s, these airports enabled the implementation of a national land-use planning policy, of which public financial support for air services was one of the tools. They have traditionally played a role in linking medium-sized towns with Paris and regions with each other, in the name of opening up and economic development. However, a number of developments since then have put this role into perspective and questioned its recomposition. The first major development concerns the liberalisation of European air transport between 1987 and 1997, which resulted in the opening up of the market to competition and a ban on aid paid to carriers and airports. In order to allow airports to better adapt to this liberalised framework, the French State organised the decentralisation of 150 airports in 2004. The local authorities that volunteered became owners of the airport infrastructure and responsible for the airport development strategy. The State has encouraged them to renew airport strategies and move towards cooperation between airports. Furthermore, the secondary airports are located in medium-sized towns which have themselves evolved and represent varied situations from a demographic and socio-economic point of view. Some have benefited from improved access times to Paris thanks to the development of high-speed rail. Thus, to answer the question of the evolution of the traditional role of secondary airports, we mobilise a territorialised approach which seeks to analyse the way in which territorial and economic actors have appropriated this infrastructure between 1990 and 2016. We hypothesise that the mobilisation of these territorial factors makes it possible to explain the varied trajectories of secondary airports and to understand the evolution of the airport's role for its territory.
Le paysage aéroportuaire français peut être hiérarchisé en trois groupes d'aéroports : les aéroports parisiens de Roissy-Charles de Gaulle et d'Orly, les aéroports régionaux enregistrant jusqu'à plusieurs millions de passagers annuels et desservant les principales métropoles régionales françaises, ainsi qu'un ensemble d'aéroports très variés du point de vue du trafic et desservant principalement des territoires de villes moyennes. La thèse s'intéresse à cette dernière catégorie d'aéroports que nous qualifions de secondaires en référence à leur position hiérarchique. Ces aéroports ont permis, entre les années 1960 et la fin des années 1980, la mise en œuvre d'une politique nationale d'aménagement du territoire dont l'aide financière publique à la desserte aérienne était l'un des outils. Ils ont traditionnellement assuré un rôle de mise en relation des villes moyennes avec Paris et des régions entre elles, au nom du désenclavement et du développement économique. Mais un certain nombre d'évolutions intervenues depuis relativisent ce rôle et interrogent sa recomposition. La première évolution majeure concerne la libéralisation du transport aérien européen entre 1987 et 1997 qui s'est traduite par une ouverture du marché à la concurrence et par une interdiction des aides versées aux transporteurs et aux aéroports. Afin de permettre aux aéroports de mieux s'adapter à ce cadre libéralisé, l'Etat français a organisé la décentralisation de 150 aéroports en 2004. Les collectivités territoriales qui se sont portées volontaires sont devenues propriétaires des infrastructures aéroportuaires et compétentes en matière de stratégie de développement de l'aéroport. L'Etat les a encouragées à renouveler les stratégies aéroportuaires et à tendre vers une coopération entre aéroports. Par ailleurs, les aéroports secondaires s'inscrivent dans des territoires de villes moyennes qui ont eux-mêmes évolué et représentent des situations variées du point de vue démographique et socio-économique. Certains ont bénéficié d'une amélioration des temps d'accès à Paris grâce au développement de la grande vitesse ferroviaire. Ainsi, pour répondre à la question de l'évolution du rôle traditionnel des aéroports secondaires, nous mobilisons une approche territorialisée qui s'attache à analyser la façon dont les acteurs territoriaux et économiques se sont appropriés cette infrastructure entre 1990 et 2016. Nous faisons l'hypothèse que la mobilisation de ces facteurs territoriaux permet d'expliquer les trajectoires variées des aéroports secondaires et de comprendre l'évolution du rôle de l'aéroport pour son territoire.
Fichier principal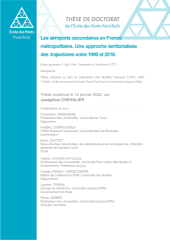 TH2022ENPC0001.pdf (7.45 Mo)
Télécharger le fichier
Origin : Version validated by the jury (STAR)