Couplage visuo-haptique en environnement de conduite simulée
Our visual-haptic system is requested as soon as our arms interact with our external environment. There is a coupling between visual and haptic modalities, so that the central nervous system takes in account the reliability and accuracy of both modalities in order to weigh their influence in the visual-haptic integration. Thus there is a rebalancing of the weight of each modality in the context of the visual-haptic solicitation. Typically, psychophysical studies implement short and repeated tasks, with or without sensory conflict, to understand the mechanisms underlying the visual-haptic coupling. Applied in our context, this method is excluded because we have to maintain the ecological character of the conduct. It was therefore necessary to find representative indicators of each experimental task, to measure the subjects' performance. In our experiments, we observe strong central nervous system plasticity, capable, within limits, to change the visual-haptic coupling, to adapt to a conflict, a noise or gain on either modality. These studies also make us perceive the added value of the haptic-related applications in the automotive industry.
Notre système visuo-haptique est sollicité dès que nous voulons interagir avec notre environnement extérieur, à l'aide de nos bras. Il existe un couplage entre la modalité visuelle et la modalité haptique, de sorte que le système nerveux central se base sur la fiabilité et la précision de chacune des deux modalités, afin de pondérer leurs influences dans l'intégration visuo-haptique. Il y a ainsi un rééquilibrage du poids de chaque modalité en fonction du contexte de sollicitation du système visuo-haptique. Habituellement, les études psychophysiques mettent en œuvre des tâches, courtes et répétées, d'estimation de grandeur ou de comparaison, avec ou sans conflit sensoriel, pour comprendre les mécanismes qui régissent le couplage visuo-haptique. Dans notre contexte appliqué, cette méthode est exclue car nous devons conserver le caractère écologique de la conduite. Il a donc fallu trouver des indicateurs, représentatif de chaque tâche expérimentale, permettant de mesurer la performance des sujets. Dans nos expérimentations, nous observons une forte plasticité du système nerveux central, capable, dans une certaine limite, de modifier le couplage visuo-haptique, pour s'adapter à un conflit, un bruit ou gain sur l'une ou l'autre des modalités. Il est également possible à travers ces études de percevoir la forte valeur ajoutée de la modalité haptique dans des applications liées à l'industrie automobile.
Fichier principal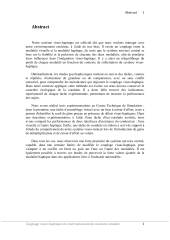 Manuscrit_BU.pdf (5.18 Mo)
Télécharger le fichier
Slides_SA.ppt (3.56 Mo)
Télécharger le fichier