Trade Barriers in Forest Industry between Malaysia and Europe
This study analyses the international timber trade between Malaysia and Europe with respect to the importance of environmental issues on trade and the role of Malaysia as a major timber exporter to Europe. It also evaluates the comparative advantage of Malaysian wood products and the willingness of French consumers (to represent European communities) to pay for sustainable forest management. The first part gives an overview the clashes of perception between developed and developing countries on the environmental concerns over trade. It was observed that environmental standards may act as non-tariff barriers to exporting countries. In addition, the stringent requirements posed by importing countries on technical, marking and labelling to some extent provide unnecessary barriers to trade. The second part deals with the role of Malaysia as a key player in the tropical timber trade. This part evaluates the main export market for Malaysian wood products to the world. For the purpose of this thesis, the analysis focuses on the European market. From the observations, it was found that the export of wooden furniture surpassed major timber exports in 2004. However, to penetrate the European market, Malaysia has to compete with the Chinese with their lower cost tropical wood products, and Brazil with their advantage in certification and labelling of tropical wood products. In tandem with that, the commitment towards sustainable forest management at national level causes shortage of raw materials in Malaysia. To a certain extent, the internal and external factors create necessary challenges to enter the European market. In the third part, the Balassa approach was used to classify the comparative advantage of Malaysia's twenty one types of wood products in Europe. It was estimated that Malaysia had high comparative advantage only in five products which were mechanized and intermediary industrial products. The products identified were sawn wood, wooden mouldings, plywood, veneer and builders' joinery and carpentry. The remaining products had lower comparative advantage and disadvantage to export to the European market based on the Balassa index. In the last part, the estimation on the willingness to pay for sustainable forest management attributes was conducted. Besides that, additional attributes such as fair trade and wood origin were included. A questionnaire was set up using all the attributes reflected in the hypothetical wood flooring product in the market. Based on the result, consumers were willing to pay the highest for the presence of fair trade and wood origin (in this study referring to French origin); nevertheless they were still willing to pay for sustainable aspects of forest. However, the willingness to pay for all the attributes was altered depending on the respondents' knowledge of forest labelling, their attitudes towards environmental preservation, living area, education level, type of job and income level. In the overall finding of the thesis, all the results from each part were synthesized in a systemic approach simultaneously deliberating on the macro and microeconomic perspectives as well as the dimensions on demand and supply. Overall, the findings suggest that the challenges and constraints facing the Malaysian timber industry indirectly shaped the export of Malaysian wooden products. Malaysia has adapted by going into value-added products to lessen the impact of environment-related trade barriers and to circumvent the shortage of raw materials supply. Malaysia has successfully customized the wooden products to the sustainability and legality requirements of the European market by pursuing the national certification (Malaysian Timber Certification) and being committed to sustainable forest management objectives.
Ce travail étudie l'influence des questions environnementales sur le commerce international à partir des échanges de bois tropicaux Malaisie - Europe, la Malaisie étant un important exportateur de bois. Les avantages comparatifs des produits forestiers Malaisiens sont évalués, ainsi que la propension à payer le bois issu de gestion forestière durable par les consommateurs français (en tant qu'Européens). La première partie envisage les différences de perception entre pays développés et pays en développement pour le lien entre commerce et environnement. Il apparaît que les normes environnementales agissent comme des barrières non-tarifaires. Ces barrières sont accentuées par les critères de marquage, d'étiquetage, et de technologie imposés par les pays importateurs. La seconde partie analyse le rôle clé de la Malaisie dans le commerce des bois tropicaux. Les principaux marchés d'exportation des bois Malaisiens sont évalués. Le marché Européen est étudié plus en détail. Il apparaît que les ventes de meuble ont dépassé en 2004 celles des autres principaux produits forestiers. Sur le marché Européen la Malaisie fait face à la concurrence de produits tropicaux à bas prix venant de Chine, et à celle de produits forestiers éco-certifiés venant du Brésil. Concomitamment, l'engagement de la Malaisie dans une dynamique de gestion plus durable y crée une pénurie relative de matériau brut. La troisième partie calcule l'index de Balassa d'avantage comparatif, pour 21 produits forestiers Malaisiens sur le marché Européen. Seuls 5 produits industriels intermédiaires ou à transformation fortement mécanisée, ont un avantage comparatif marqué. Il s'agit des sciages, moulures, contreplaqués, placages, charpente et menuiserie industrielle. Les autres produits présentent des avantages comparatifs faibles ou même négatifs. La quatrième partie estime la propension à payer pour différents attributs environnementaux, ainsi que d'autres tels le commerce équitable et l'origine géographique. Un questionnaire reprenant ces attributs pour du parquet bois hypothétique a été utilisé. Il semble que les consommateurs soient prêts à rémunérer le plus les critères de commerce équitable et d'origine Française, la gestion durable étant recherchée dans une moindre mesure. La propension à payer les tous les attributs varie en fonction des notions et attitudes qu'ont les consommateurs sur l'éco-certification, l'environnement, ainsi qu'en fonction de leur lieu d'habitation, niveau d'éducation et de revenu, et type de profession. Enfin les résultats des 4 parties sont synthétisés en reliant les échelles micro et macroéconomiques, avec les dimensions de demande et d'approvisionnement. D'une façon générale, les résultats suggèrent que les opportunités et contraintes propres à la l'industrie du bois de Malaisie façonnent les exports de produits. La Malaisie s'adapte en se tournant vers des produits à plus haute valeur ajoutée et à moindre impact environnemental, pour pallier aux barrières commerciales et à la pénurie relative de matériau. La Malaisie s'est dotée d'une certification nationale (Malaysian Timber Certification) propre à remplir les critères de durabilité et de légalité de l'Europe, et s'est engagée la gestion durable des forêts.
Fichier principal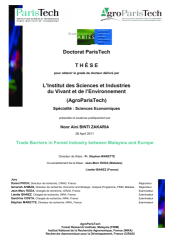 vcompatible_cines_final-thesis_aini.pdf (1.79 Mo)
Télécharger le fichier
Origin : Version validated by the jury (STAR)