Oxydation du sulfure d'hydrogène par les cellules épithéliales coliques : Une voie métabolique de détoxication et de production d'énergie
Hydrogen sulfide (H2S) is a metabolite produced notably by colonic sulphate-reducing bacteria from alimentary sulphur-containing amino acids, sulfates / sulfites and sulfomucines. At high concentrations, H2S is a toxic gas due to its ability to inhibit cytochome c oxidase, and therefore mitochondrial respiration. In contrast, our study shows that at low concentrations, H2S induces mitochondrial energization in human colonic epithelial cells HT-29 Glc -/+ assigning it a role as the first inorganic oxidative substrate in human cells. In this work, we have determined sulphide concentrations allowing sulphide oxidation/detoxification by HT-29 cells and those which inhibit oxygen consumption. The oxidation of H2S requires cooperation between the "sulphide oxidation unit" and the respiratory chain. The capacity of HT-29 Glc -/+ to oxidize H2S is associated with the presence of transcripts encoding the enzymes constituting the "sulfide oxidation unit": the sulphide quinine reductase (SQR), the sulphur dioxygenase or Ethylmalonic encephalopathy 1 (ETHE1) and the thiosulfate sulphur transferase (TST). We demonstrate that the oxidation of H2S takes precedence over the oxidation of carbon substrates. Indeed, our results suggest that electrons from SQR are transferred to the ubiquinone pool at the expense of those originating from the complex I. Our results point out that SQR represents a determinanat factor in the oxidation of H2S. In addition, the detoxification of H2S by HT-29 Glc -/+ cells increases during spontaneous differentiation and differentiation induced by treatment with butyrate. The increase in the detoxification of H2S during the differentiation is associated with an increase of the respiratory reserve pointing out the importance of the respiratory chain as a component of the detoxification function of H2S. In situations of inhibition of cytochrome c oxidase, the capacity of human colon cells to detoxify H2S could be due in part to the presence of a reverse transfer of electrons from the oxidation of H2S to the SQR complex I. In addition to butyrate, zinc, another compound of the colonic lumen has a protective effect against cell toxicity associated with H2S. Lastly, we have shown a decreased expression of the gene encoding an enzyme of the "sulfide oxidation unit" (TST) in the rectum compared to the other segments of human colon. This observation may correspond to different detoxification capacities towards H2S according to the different parts of the human large intestine.
Le sulfure d'hydrogène (H2S) est un métabolite bactérien produit notamment par les bactéries sulfato-réductrices du côlon à partir des acides aminés soufrés, des sulfates/sulfites alimentaires et des sulfomucines. A fortes concentrations, le H2S est un gaz toxique, de par sa capacité à inhiber la cytochome c oxydase, et par conséquent, la respiration mitochondriale. A l'inverse, notre travail montre qu'à faibles concentrations, le H2S induit une énergisation mitochondriale des cellules épithéliales coliques humaines HT 29 Glc-/+ lui conférant aussi un rôle de substrat minéral énergétique. Dans ce travail, nous avons déterminé les concentrations de H2S permettant l'oxydation/détoxication de H2S par les cellules HT 29 Glc-/+ et celles provoquant une inhibition de la consommation d'oxygène. L'oxydation du H2S nécessite la coopération entre la " sulfide oxidation unit " et la chaîne respiratoire. La capacité des cellules HT29 Glc-/+ à oxyder le H2S est associée à la présence des transcrits codant les enzymes constituant la " sulfide oxidation unit " : la sulfure d'hydrogène quinone reductase (SQR), la dioxygenase ETHE1 et la thiosulfate transferase (TST). Nous avons démontré la priorité de l'oxydation du H2S sur les substrats carbonés . En effet, nos résultats suggèrent que les électrons venant de la SQR sont transférés au pool d'ubiquinone aux dépens de ceux venant du complexe I. Nos résultats démontrent que la SQR joue un rôle déterminant pour l'oxydation de H2S. De plus, la détoxication du H2S par les cellules HT29 Glc-/+ augmente au cours de la différenciation spontanée ou induite par un traitement au butyrate. L'augmentation de la détoxication de H2S au cours de la différenciation est associée à une augmentation de la réserve respiratoire soulignant l'importance de la chaîne respiratoire comme composante de la fonction de détoxication du H2S. En situation d'inhibition de la cytochrome c oxydase, la grande capacité des cellules coliques humaines à détoxiquer le H2S pourrait être en partie due à la présence d'un transfert réverse des électrons issus de l'oxydation de H2S de la SQR vers le complexe I. Outre le butyrate, le zinc un autre composé de la lumière colique, exerce un effet protecteur contre la toxicité cellulaire du H2S. Enfin, notre travail a mis en évidence une diminution de l'expression d'un gène codant pour une enzyme de la " sulfide oxidation unit " (la TST) dans le rectum comparée à différents segments du côlon, ce qui pourrait correspondre à des capacités de détoxication du H2S différente en fonctions des segments du gros intestin humain.
Fichier principal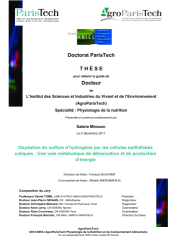 THESE_-_25_-_fA_vrier_-_2012_-_final.pdf (4.16 Mo)
Télécharger le fichier
Origin : Version validated by the jury (STAR)