Using the modeling approaches of soil water transfers and plant communities biodiversity to analyse the ecological performance of a highway mitigation project.
Modélisation du fonctionnement hydrologique du sol et de la biodiversité des communautés végétales. Application à l'analyse de la performance écologique d'un aménagement paysager autoroutier.
Human activities are responsible for high modifications in ecosystems functioning. It is recognized that these impacts cause definitive and high losses rate of biodiversity in every components of wildlife. Due to regulation, construction companies are bound to evaluate environmental impacts of the infrastructure construction projects (eg: roads), and more particularly, impacts on biodiversity. Companies are also bound to propose measures to avoid, reduce or mitigate residuals impacts by the creation or restoration planning of biodiversity. Unfortunately, there are not existing tools and methods clearly defined by regulation for such plans. Most of the time, predictions and environmental evaluations fail in measuring the impacts on biodiversity and efficiency of conservation planning. The research program that we conducted aimed at (i) proposing a new methodological approach in order to characterise processes and abiotic parameters which impact biodiversity of plant communities, (ii) analysing conservatory plans efficiency and (iii) proposing measures for biodiversity valuation in our study case. Our study was realised in a landscaping project zone along the A19 highway, Loiret, France. Seedling and planting were done two years before our study began. Only hydrological processes were studied based on mechanistic modelling using Hydrus-1D software. Last and final summary in the thesis.
L'anthropisation croissante des territoires a conduit à la transformation profonde des écosystèmes et à une perte massive, rapide et irréversible de la biodiversité. La réglementation nationale française impose aujourd'hui aux aménageurs du territoire d'évaluer, a priori et a posteriori, les impacts environnementaux de leurs projets de construction (ex : infrastructures routières) et notamment les impacts sur la biodiversité. Cette réglementation impose également de proposer des mesures d'évitement, de réduction, et de compensation, lorsqu'il existe des impacts résiduels, par la création ou la restauration de la biodiversité dégradée. En l'absence d'outils performants à disposition des gestionnaires, les échecs de la prédiction des impacts et de l'évaluation de l'efficacité des mesures conservatoires sont nombreux. L'objectif général de cette thèse est de proposer une nouvelle approche méthodologique pour (i) caractériser les processus et les paramètres abiotiques impactant la diversité végétale des communautés, (ii) analyser l'efficacité d'un projet de création et (iii) proposer, à la lecture de ces résultats, des nouvelles mesures de valorisation de la biodiversité végétale du site d'étude. Le site étudié est un aménagement paysager autoroutier, au sein duquel des semis et des plantations ont été réalisées par le constructeur, deux ans avant le début de notre étude. Nous avons restreint l'étude mécaniste du compartiment abiotique à celle du fonctionnement hydrologique (modélisé à l'aide d'HYDRUS-1D). [...] Suite et fin du résumé dans la thèse.
Fichier principal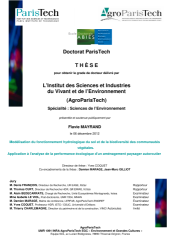 These_-_F.MAYRAND_-_FINAL.pdf (10.74 Mo)
Télécharger le fichier
Origin : Version validated by the jury (STAR)