Influence of traffic control in a signalized intersection on the risk of road users; Stream-based learning of safety indicators through data selection
Incidence de la régulation d'un carrefour à feux sur le risque des usagers; Apprentissage d'indicateurs par sélection de données dans un flux
In the context of traffic light control strategies and the development of integrated devices for traffic management, our task is to build a system that analyses observation data of an intersection. We use an automated experimental observation device of a real intersection, based on video sensors, and a database of traffic recordings which allows us to make a comparative analysis of the effects of two strategies, a reference strategy, and an adaptive real-time strategy, called CRONOS, developed in INRETS.

We focus on interactions between vehicles, and their relation to accidents, called severity. We introduce a categorization of interactions between vehicles in an intersection, and study particularly the conflict zone. We measure the interaction duration and evaluate at each instant the severity of detected interactions, according to two indicators, a proximity indicator and a speed indicator. Our modular system detects interactions with explicit expert rules. For the severity indicators, we develop a generic learning method, through data selection in a stream. This method is tested on the learning of the speed indicator, and benchmarks.

We use our system to analyse a part of the database. With this system, we study the distribution of interaction duration according to the safety indicators and highlight differences between the compared strategies.
Dans le cadre de la régulation des carrefours à feux et du développement d'outils intégrés de gestion du trafic, notre recherche consiste à construire un système d'analyse des données d'observation d'un carrefour. Nous utilisons un dispositif expérimental d'observation automatique d'un carrefour réel basé sur des capteurs vidéo et une base d'enregistrements de scènes de trafic, qui nous permet de comparer l'incidence relative de deux stratégies, une stratégie de référence et une stratégie adaptative temps-réel, appelée CRONOS et développée à l'INRETS.

Nous nous intéressons aux interactions entre véhicules et à leur relation à l'accident, appelée sévérité. Nous proposons une modélisation des interactions entre les véhicules dans un carrefour, et étudions particulièrement la zone de conflit. Nous mesurons les durées d'interactions et qualifions à chaque instant la sévérité des interactions détectées selon deux indicateurs, un indicateur de proximité et un indicateur de vitesse. Notre système modulaire détecte les interactions à l'aide de règles expertes explicites. Pour les indicateurs de sévérité, nous développons une méthode d'apprentissage générique, par sélection de données dans un flux. Cette méthode est testée sur l'apprentissage de l'indicateur de vitesse, et sur d'autres problèmes classiques.

Nous utilisons le système développé pour traiter une partie des données de la base. Nous étudions les distributions des durées d'interaction selon les indicateurs de sévérité et mettons en évidence des différences entre les stratégies comparées.
Fichier principal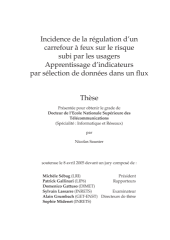 tel-000094471.pdf (2.48 Mo)
Télécharger le fichier
tel-00009447.pdf (718.67 Ko)
Télécharger le fichier