Poor but Mobile.
Daily Mobility Tactics of Precarious and Flexible Workers and New Mobility Services
Précaires mais mobiles
Tactiques de mobilité des travailleurs précaires flexibles et nouveaux services de mobilité
While socio-economic precariousness often leads to a geographical confinement, some groups face both precariousness of economic, social and cultural resources and flexible mobility, that is intense mobility with changing schedules and destinations. Unqualified catering temp workers and some people under social integration process belong to such a category.
30 interviews with such precarious flexible workers show that the levels of precariousness and flexibility distinguish their trip solutions, mobility tactics and accessibility strategies. Four types of tactics are especially identified : complacent considerate, offhand wise, skilful assured, conformist frustrated.
Two major types of strategies also oppose people with low and high flexibility : the dependent child and the alienated parent are little flexible, geographically rooted, inserted in a genealogy, and attached to their employers' values ; on the contrary, the autonomous craftsman (journeyman, applicant or resistant) demonstrate a capacity of daily, residential and professional mobility, tending towards family emancipation.
This analysis enables us to identify material, cognitive and symbolic resources that structure the mobility choices. So, the disposal of autonomous and decent accommodation seems to be the only external factor that may determine the elaboration of professional and residential strategies, and flexible mobility.
Thus, to face the challenges of the flexible society, the most precarious ones need above all a decent and autonomous place to live rather than tools or competence for mobility.
Alors que la précarité socio-économique conduit souvent à l'enfermement géographique, certaines catégories de populations, comme les intérimaires peu qualifiés de la restauration ou certaines personnes en insertion, assument à la fois une précarité de ressources économiques, sociales, culturelles et une mobilité flexible, c'est-à-dire intense et variable en destinations et horaires.
30 entretiens avec de tels précaires flexibles révèlent que leurs degrés de précarité et de flexibilité discriminent leurs solutions de déplacement, leurs tactiques de programmation de la mobilité, et leurs stratégies d'accessibilité. Quatre tactiques idéal-typiques sont ainsi identifiées : suffisant prévenant, désinvolte avisé, virtuose assuré, conformiste contrarié.
Deux grands types de stratégies opposent également les peu et les très flexibles : l'enfant dépendant et le parent aliéné sont à la fois peu flexibles, ancrés territorialement, inscrits dans une généalogie familiale, et attachés aux valeurs de leurs employeurs ; l'artisan autonome (compagnon, impétrant ou résistant) manifeste au contraire une capacité de mobilité à la fois quotidienne, résidentielle et professionnelle, tendue vers l'émancipation familiale.
Cette analyse permet d'identifier les ressources, matérielles, cognitives et symboliques, qui structurent les choix de mobilité. La disposition d'un logement autonome et décent apparaît alors comme le seul élément externe susceptible de déterminer l'élaboration de stratégies de changement professionnel et résidentiel ainsi qu'une grande flexibilité.
Pour faire face aux défis de la société flexible, les plus précaires auraient ainsi avant tout besoin d'un logement décent et autonome plutôt que d'outils ou de compétences de mobilité.
Fichier principal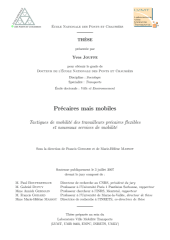 precaires_mais_mobiles_these_yves_jouffe_20070703.pdf (7.73 Mo)
Télécharger le fichier
soutenance-texte-20070703.odt (21.59 Ko)
Télécharger le fichier
soutenance-texte-20070703.pdf (61.07 Ko)
Télécharger le fichier
soutenance-transparents-20070703.odp (23.54 Ko)
Télécharger le fichier
soutenance-transparents-20070703.pdf (207.66 Ko)
Télécharger le fichier