Modélisation du comportement cyclique alterné du béton armé. Application à divers essais statiques de poteaux
The behavior of structures under seismic loads needs a good knowledge of materials behavior under these loads. In this study, the model for the concrete behavior is based on the theory of damage, on the mechanics of continuum media and the thermodynamics of irreversible processes. This model takes into account the inelastic deformation and the loss of rigidity due to cracking. The biaxial and the creep effects are not considered. The behavior of the reinforcement steel is elastic perfectly plastic. An important improvement for the application of the model has been to define a method of identification of parameters based on physical data obtained from concrete classical tests and from an analytical expression of the behavior law of common use. The monoaxial model is implemented in a numerical code for plane structures. The analysed structure is discretised into several beam elements. Each element is represented by a certain number of sections. The section is divided into fibers subjected to monoaxial sollicitations. Each fiber follows its own history that is comformable to the model; its deformation agrees with the plane section hypothesis. Validation tests have been carried out on standard cylinders subjected to repeated compressive loads. Other tests are also performed on short columns under normal reversible forces and on columns under alternate bending forces. The comparison between the model and tests gives encouraging results for analysis of plane reinforced concrete structure under cyclic loading.
Le comportement des structures sous certains types d'actions tels que les séismes nécessite une bonne connaissance du comportement des matériaux composants sous des charges cycliques. Dans cette étude, le modèle de comportement cyclique du béton est basé sur la théorie de l'endommagement, sur la mécanique des milieux continus et la thermodynamique des processus irréversibles. Ce modèle tient compte des déformations résiduelles et de la perte de raideur due à la fissuration. Dans son application, les effets biaxiaux et le fluage ne sont pas pris en considération. Le comportement des armatures est considéré élasto - plastique parfait. Une amélioration importante pour l'application du modèle a été de définir une méthode d'identification des paramètres à partir des données physiques obtenues dans les essais classiques de contrôle du béton et d'une expression analytique de la loi de comportement d'usage courant. Le modèle uniaxial est introduit dans un code numérique pour structures planes. La structure à analyser est découpée en plusieurs éléments de poutres. Chaque élément est représenté par un certain nombre de sections. La section est divisée en plusieurs fibres soumises à une sollicitation uniaxiale. Chaque fibre suit sa propre histoire conforme au modèle ci-dessus, mais sa déformation respecte la loi de planéité de la section considérée. Des essais de validation ont été réalisés sur des éprouvettes cylindriques sous charges cycliques de compression, sur des poteaux courts sous compression - traction cyclique et sur des poteaux sous flexion alternée et effort normal constant. La comparaison modèle - essais apporte des résultats encourageants pour l'analyse des structures en béton armé sous charges cycliques.
Fichier principal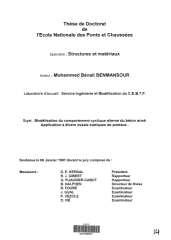 1997TH_BENMANSOUR_MB_NS22193.pdf (6.49 Mo)
Télécharger le fichier
Origin : Files produced by the author(s)