Analyse de la stabilité d'ouvrages en gabions cellulaires par la théorie du calcul à la rupture
Cellular cofferdams are constituted by a shell of steel sheetpiles filled with sand or gravel backfill. They are used in harbour or fluvial locations as earth or water retaining structures. Although they have been in use for more than 80 years, their mechanical behaviour is still poorly understood and accidents still occur even during construction. The use of design methods based on yield design theory can contribute to found the design of cellular cofferdams on rigorous bases. The yield design of cellular cofferdams has some particular characteristics : true 3-dimensional geometry, mixed modelling of the structure (the sheetpiles are modelled as a shell, the backfill as a 3-dimensional continuous media). Modelling sheetpiles as a shell makes it possible to consider kinematic fields with flexure strain of the sheetpiles. Flexure strain has been observed on some accidents and some model tests. The present work opens with an introductory chapter dealing with the construction of cellular cofferdams, their applications and design methods. Chapter 2 deals with the modelling of cellular cofferdams. Chapters 3, 4, 5 and 6 deal with the application of static and kinematic methods to a single cofferdam cell and to cellular cofferdams. In chapter 7, the results are compared to data from different sources : field measurements, case of accident, model tests.
Les gabions cellulaires sont constitués d'une enceinte de palplanches métalliques remplie d'un remblai frottant. Ils sont utilisés dans des sites portuaires ou fluviaux comme soutènements ou comme batardeaux. Bien qu'utilisés depuis plus de 80 ans, leur fonctionnement mécanique n'est qu'imparfaitement compris et des accidents surviennent encore, y compris en cours de construction. L'emploi des méthodes fondées sur la théorie du calcul à la rupture peut contribuer à fonder le dimensionnement de ces ouvrages sur des bases rigoureuses. Le calcul à la rupture des gabions cellulaires présente plusieurs particularités géométrie authentiquement tridimensionnelle, modélisation mixte des éléments constitutifs (enceinte de palplanches modélisées comme une coque, matériau de remblai modélisé comme un milieu continu 3D). La modélisation coque des palplanches permet notamment d'envisager des cinématiques avec des déformations en flexion des palplanches ce qui correspond à certaines observations d'accidents ou de modèles réduits à grande échelle. Un premier chapitre introductif rappelle la constitution des gabions et des gabionnades, leurs utilisations et leurs méthodes de dimensionnement. Le chapitre 2 donne les bases de la modélisation des gabions que nous utiliserons dans la suite. Les chapitres 3, 4, 5 et 6, appliquent les méthodes statique et cinématique au gabion isolé et à la gabionnade. Le chapitre 7 est consacré à la comparaison des résultats avec des données de différents types : mesures in situ, cas d'accident, essais sur modèles réduits.
Fichier principal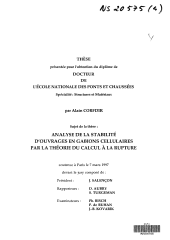 1997TH_CORFDIR_A_NS20575.pdf (17.76 Mo)
Télécharger le fichier
Origin : Files produced by the author(s)