Etude des effets différés dans les tunnels profonds
The study of the equilibrium of the lined tunnel is of big interest. From a mechanical point of view, it is a problem of complex interaction between two structures which have very different behaviour: the rock mass with the cavity on the one hand and the lining on the other hand. The time dependent effects which appear in a rock mass are principally due to two phenomena which can be coupled: - viscosity of the solid part ; - diffusion of the interstitial fluid through the rock mass. We first present a bibliographical survey with the different stages of the study, design and realisation of a deep tunnel project. In the second part of this dissertation, we study the influence of loading history (the speed of the tunnel advancing and the instant of lining placement) on the equilibrium of a lined tunnel driven in a monophasic viscoplastic rock mass. A simplified method of dimensioning tunnels excavated in such media is developed. We also study the hydro-mechanical coupled effects on deep tunnels driven in isotherm saturated porous media having a poro-elastic or poro-elasto-plastic behaviour. An unidimensional analytical study reveals the influence of the mechanical loading history and the hydraulic boundary conditions at the tunnel wall. Numerical simulations of the tunnel front progress, at a given rate, are carried out for an axisymmetric 2D geometry. With the generalisation of the fictitious stress, the analytical study allows to localise the equilibrium point in the (wall convergence - stress applied on the wall) plane. These results allow to make tunnel dimensioning computations with strain plane in biphasic media with more rigor.
L'étude de l'équilibre à long terme du tunnel revêtu suscite un intérêt important. D'un point de vue mécanique, il s'agit d'un problème d'interaction complexe entre deux structures de comportement très différent : le massif avec la cavité d'une part, le soutènement d'autre part. Les effets différés qui apparaissent dans un massif sont principalement liés à deux phénomènes qui peuvent être couplés : - la viscosité du squelette solide du massif ; - la diffusion du fluide interstitiel au sein du massif. On commence par présenter une étude bibliographique assez générale concernant les différentes étapes d'étude, de conception et de réalisation d'un projet de tunnel profond. Dans la seconde partie du mémoire, on étudie l'influence de l'histoire du chargement (vitesse de creusement et instant de pose du soutènement) sur l'équilibre d'un tunnel soutenu creusé dans un massif monophasique à comportement viscoplastique. Une méthode simplifiée de dimensionnement des tunnels dans de tels milieux a été élaborée. On a également abordé les effets de couplage entre comportements hydraulique et mécanique dans le cadre des tunnels profonds creusés dans un milieu poreux saturé isotherme ayant un comportement poro-élastique ou poro-élasto-plastique. Une étude analytique du tunnel 1D révèle l'influence de l'histoire du chargement mécanique et des conditions aux limites hydrauliques imposées en paroi. Des simulations numériques de creusement de tunnel en géométrie 2D axisymétrique sont menées. L'étude analytique permet, grâce à la généralisation de la notion de contrainte fictive de soutènement, de localiser le point d'équilibre du tunnel soutenu dans le plan (convergence en paroi - contrainte appliquée en paroi). Ces résultats permettent d'aborder le calcul en déformation plane des tunnels creusés en milieux biphasiques avec plus de rigueur.
Fichier principal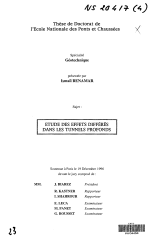 1996TH_BENAMAR_I_NS20417.pdf (12.4 Mo)
Télécharger le fichier
Origin : Files produced by the author(s)