Variations par temps de pluie des débits dans les réseaux d'eaux usées de type séparatif : identification des composantes et modélisation des infiltrations
The present concern about urban storm drainage and pollution control should not apply to separate foul water sewerage. However, flowrates that can be monitored at the outlets of such sewerage display huge variations along with rainfall, very much alike the ones related with combined systems. Inappropriate connexions of runoff water are not the sole explanation for such a behaviour, and infiltration is to be considered. Leaking defects, included the ones located on private properties, involve rather complex mechanisms which result in drainage of large flows into the collection pipes. These flows can reach high values whatever timescale is considered (yearly, daily and even hourly flowrates). But these flowrates cannot be easily quantified, because they depend not only on rainfall events, but also on what happened before, and on the season. So we developed a mathematical model to simulate these flowrates, and validated this model using field data and sensibility analysis. This model should be a valuable tool for sewer evaluation studies.
Les préoccupations actuelles quant à la réduction des rejets urbains en temps de pluie ne concernent en principe guère les réseaux séparatifs de collecte des eaux usées. Pourtant les débits observés à l'exutoire de ces réseaux présentent des variations analogues à celles qui caractérisent les systèmes unitaires. Les raccordements illicites d'eaux pluviales ne sont pas la seule cause de ce comportement et les apports par infiltration y contribuent largement. Par le jeu de mécanismes complexes de drainage, les défauts d'étanchéité des réseaux, y compris ceux qui sont localisés en domaine privé, sont à l'origine de débits importants, aussi bien à l'échelle annuelle, que journalière ou même horaire. Mais ces débits restent difficiles à caractériser car ils dépendent non seulement des événements pluvieux mais de leurs antécédents et de la saison. On a donc cherché à développer un modèle permettant de simuler ces débits et à le valider à partir de mesures de terrain et d'une étude de sensibilité. Ce modèle pourrait constituer un outil intéressant pour les études diagnostic de réseau.
Fichier principal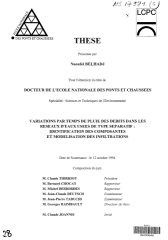 1994TH_BELHADJ_N_NS17981.pdf (19 Mo)
Télécharger le fichier
Origin : Files produced by the author(s)