Approche expérimentale et numérique du comportement du ballast des voies ferrées
Despite the major importance of ballast for the quality of the railway track, the ballast behaviour is still not completely understood. The purpose of this report is to describe the identification process of a settlement law of ballast and of a degradation model of the ballasted track. This report proposes a test at reduced scale (1/3), which is used to establish a settlement law of ballast in the vertical plane. To this end, similitude laws have been defined in order to describe the relation between the sizes of the real-size model and the ones characterising the reduced model. These laws are based on the material conservation - ballast - and the stress fields conservation within the specimen. The ballast specimen is submitted to a vertical loading that simulates the kind of loading applied when a TGV bogie runs on a regular track. Results of this test are used to design the settlement law of ballast that links settlement with the elastic deflection of the ballast/ground couple. Parameters that are involved in the loading, such as the quality of the ground under the ballast and the thickness of the ballast layer, are also studied. In order to complement experimental results, a numerical simulation has then been carried out. As opposed to the experiment, which is limited to a sleeper, the numerical simulation is applied to a larger portion of track. The objective is to study the evolution of track defects versus traffic. These defects may be either geometrical (due to levelling irregularities during the track set up) or linked to stiffness variations of both the ballast and the ground. Thus, a model of a running vehicle has been developed in order to calculate dynamic stresses applied on rail. These stresses are then introduced in a quasi-static model of the track which takes into account results of the ballast behaviour obtained with the experiment. Calculations of the evolution of track profiles show clearly that stiffness defects of ballast and ground cause more damage for the track than geometrical defects. This report ends with a micro-mechanical analysis of ballast. For this purpose, the ballast is considered as an assembling of rigid, discreet and tridimensional bodies. This last study shows the possibility of modelling, in a discreet way, the unilateral behaviour of ballast. The numerical model brings out results that are really close to the ones obtained through experiment.
Bien qu'utilisé depuis longtemps dans les voies ferrées, le ballast in situ a un comportement encore mal connu. L'objet de ce mémoire est donc de décrire le processus d'identification d'une loi de tassement du ballast et d'un modèle de dégradation réaliste des voies ballastées. Le travail expérimental, réalisé au moyen d'un essai à échelle un tiers sert à identifier la loi de tassement du ballast -sous une traverse- dans le plan vertical. Pour cela, des lois de similitude décrivent le passage des grandeurs associées au modèle réel à celle du modèle réduit. Elles sont basées sur la conservation du matériau ballast et la conservation des champs de contraintes au sein de l'éprouvette. L'éprouvette de ballast est soumise à un chargement vertical reproduisant la charge appliquée sur le ballast lors du passage d'un bogie de TGV. Les résultats de cet essai servent à établir la loi de tassement du ballast qui relie le tassement à la déflexion élastique de l'ensemble formé par le ballast et le sol sur lequel il repose. Les paramètres intervenant dans le chargement, la qualité du sol supportant le ballast et l'épaisseur de la couche de ballast sont discutés. La simulation numérique vient compléter l'expérience, en étendant l'étude à une portion de voie. L'objectif est d'analyser l'évolution des défauts de voie en fonction du trafic. Les défauts considérés peuvent être d'ordre géométrique (irrégularités du nivellement lors de la mise en place de la voie) ou porter sur des variations de raideur du ballast et du sol. Un modèle de véhicule en circulation a aussi été développé pour calculer les efforts dynamiques exercés sur le rail. Ces efforts dynamiques sont ensuite injectés dans un modèle quasi-statique de voie prenant en compte le comportement du ballast identifié expérimentalement. Les évolutions de profils de voie ainsi calculées démontrent que les défauts de raideur du ballast et du sol sont plus endommageants pour la voie que les défauts de géométrie. Ce mémoire se termine par une analyse micromécanique du ballast, considéré pour l'occasion, comme un assemblage de corps rigides, discrets et tridimensionnels en contact. L'intérêt principal de cette étude est de démontrer la possibilité de modéliser, de façon discrète, le comportement unilatéral du ballast. Le modèle numérique ainsi développé reproduit fidèlement les résultats obtenus expérimentalement.
Fichier principal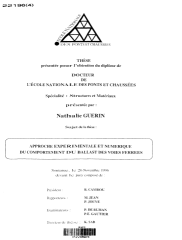 1996TH_GUERIN_N_NS22196.pdf (12.98 Mo)
Télécharger le fichier
Origin : Files produced by the author(s)