Etude du comportement à la rupture d'un matériau fragile précontraint : le verre trempé
The aim of this work is to study the fracture behavior of a prestressed material, the tempered glass, and predict its load-carrying capacity. The knowledge of tridimensional stress state is indispensable. In the case of glass building structures, elements are loaded in their plane. The edge prestress level must be determined. Simulation of tempering with the finite elements code MARC allows the calculation of transient and residual stresses. Glass is a viscoelastic material whose behavior varies with temperature. Glass is brittle. Its resistance depends on its surface state, on flaws of the structure. A statistical analysis allows a link between the failure probability and the applied stress, to take into account both the scale effect and the stress distribution. Four-point bending experimentations with annealed glass small specimens give statistical characteristics corresponding to the Weibull's theory. The loading rate effect is shown and taken into account in the modeling. It is due to the subcritical crack growth of preexisting flaws during loading because of chemical reaction between glass and environmental water vapor. Four-point bending tests on large annealed glass beams validate the statistical relation for the prediction of volume effect in glass. With computational and experimental results (statistical characteristics of glass failure), the prediction of large tempered glass beams strengths is possible. This prediction is consistent with results of experiments on large annealed and tempered glass beams. Long-term four-point bending tests on annealed and tempered glass beams are scheduled to study the evolution of annealed and tempered glass resistance under constant loading.
L'objectif de ce travail est l'étude du comportement à la rupture d'un matériau fragile précontraint : le verre trempé. Pour la prédiction de la résistance du verre trempé, la connaissance de l'état de précontrainte tridimensionnel est indispensable. Dans le cas de l'utilisation du verre pour les structures du bâtiment (ce qui constitue la première application de ce travail), les éléments sont chargés dans leur plan ; le niveau de précontrainte sur la tranche doit être déterminé. La simulation du traitement de trempe (chauffage et refroidissement brutal) par le code aux éléments finis MARC permet de calculer les contraintes transitoires et résiduelles. Le verre est un matériau viscoélastique dont le comportement varie avec la température. Le verre est un matériau fragile. Sa résistance dépend directement de son état de surface, des défauts présents dans l'élément. Une analyse statistique permet de relier la probabilité de rupture au niveau de la contrainte appliquée, de prendre en compte l'effet de surface et l'effet de la distribution des contraintes. Des essais de flexion 4 points sur de petits éléments en verre recuit servent à déterminer les caractéristiques de la loi statistique utilisée (loi de Weibull). L'effet de la vitesse de chargement sur la résistance est mis en évidence et pris en compte dans la modélisation. Il est dû à la fissuration sous-critique des défauts préexistants pendant le chargement en raison de la réaction chimique entre le verre et la vapeur d'eau présente dans l'environnement. Des essais de flexion 4 points sur de grandes poutres en verre recuit permettent de valider la loi statistique pour prédire l'effet de volume dans le verre recuit. Grâce aux résultats des simulations de la trempe et à la connaissance des caractéristiques statistiques de rupture du verre recuit, la prédiction de la résistance de grands éléments en verre trempé est possible. Cette prédiction est validée par des essais de flexion 4 points sur de grandes poutres en verre trempé. Des essais similaires de longue durée sont programmés pour étudier l'évolution de la résistance du verre recuit et trempé dans le temps.
Fichier principal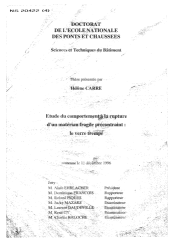 1996TH_CARRE_H_NS20422.pdf (11.61 Mo)
Télécharger le fichier
Origin : Files produced by the author(s)