Transport combiné ou transport routier ? Etude des facteurs de choix entre deux systèmes de transport intérieur de fret
The aim of this thesis is to describe the system of competition between the combined transport and the road transport through a quantitative analysis of the factors influencing the choice of the domestic combined transport. This analysis is based on the use of econometric tools for the choice of the transport mode based on the theory of consumer utility maximization. In order to find the factors sensitive to combined transport, the research followed a dual path: on the one hand, aggregated modelling of modal split using data from a sample of 44 primary corridors for domestic combined transport, and on the other hand, disaggregated modelling using data from an INRETS's survey of carriers. The results obtained during this work are rather encouraging. Our study confirms that factors such as price and distance have a strong influence upon the choice of combined transport. Moreover, other factors such as time intervals for train departures, the various categories of carriers, and the value per kilo of the parcel to be sent also influence the choice of combined transport. The method we used is able to forecast the influence of competition on the freight market and can also be a useful analytic tool for helping a policy that would develop combined transport.
Le but de cette thèse est de décrire la problématique de la concurrence entre le transport combiné et le transport routier, par une analyse quantitative des facteurs influant le choix du transport combiné intérieur. Cette analyse s'appuie sur des outils économétriques du choix du mode de transport qui reposent sur la théorie de la maximisation de l'utilité du consommateur. Une double démarche de la modélisation a été conduite afin de trouver les facteurs sensibles à l'égard du transport combiné : d'une part, la modélisation agrégée du partage modal à l'aide des données recensées sur un échantillon de 44 axes principaux du transport combiné intérieur, et d'autre part, la modélisation désagrégée à l'aide des données tirées de l'enquête auprès des chargeurs de l'INRETS. Les résultats obtenus au cours de ce travail sont plutôt encourageants. Notre étude confirme que les facteurs tels que le prix et la distance ont une forte influence sur le choix du transport combiné. En plus, d'autres facteurs tels que les plages horaires de départ des trains, les différentes catégories de chargeurs et la valeur au kilo de l'envoi se révèlent également sensibles vis-à-vis du choix du transport combiné. La méthode utilisée permet de prévoir l'influence de la concurrence sur le marché de transport de fret et peut s'avérer aussi un outil d'analyse dans le but d'éclairer la politique du développement du transport combiné.
Fichier principal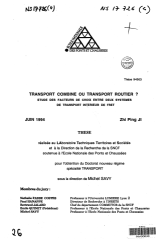 1994TH_JI_ZP_NS17726.pdf (12.51 Mo)
Télécharger le fichier
Origin : Files produced by the author(s)