Les parcs relais, outils clés de politiques intermodales de déplacement urbain
Metropolisation, the result of the shifting patterns of concentration and expansion in populations and activities which have been affecting large French cities over the last twenty years, has been accompanied by major developments in lifestyle as well as structural changes in people's daily travel needs. The individualisation of behaviours, the break-up of traditional forms of relationship, the spatial and temporal de-synchronization of rhythms have resulted in the dispersion of mobility flow over vast areas which tend to be globally appropriated by means of several public transport networks, or more often, the car. These developments have led to the exacerbation of traffic and parking problems in and towards the sectors of greatest density where the most efficient public transport networks are to be found. This is the socio-organisational background against which park and ride strategies, the aim of which is to organise the complementarity of public and individual means of transport, have been implemented in the agglomerations and regions of France. They represent three main types of challenge for their various potential developers between which a compromise with regard to their conception and management must be found: optimisation of profitability for the transport offer through an increase in users, the organisation of intermodality and modal transfers to cover a wider area, and the orientation of urban planning through the re-allocation of space and the development of the nodal points in the network. In actual fact, they function as maintenance instruments for centres of urban concentration to which they facilitate access, but on a wider scale, that of the functioning of urban regions, they establish a hierarchical model of network organisation within which a journey may be made using both public transport and the car, one after the other, each in the geographical area where its level of socio-economic efficiency is at its maximum. The comparison between the failures or mixed successes finally obtained in France and the experience both of countries with strong planning policies (Germany, Switzerland) and liberal countries (United States, United Kingdom), show us that technical, organisational and institutional innovations should be introduced at the location, design and operational stages of these pivots in the modal chain, which are also interfaces with the region. At the same time, they should be integrated into local transport policies which must be placed at the centre of overall thinking on the functioning and future of urban areas.
La métropolisation, fruit des mouvements de concentration et d'étalement des populations et des activités qui depuis une vingtaine d'années affectent les grandes villes françaises, s'est accompagnée de bouleversements des modes de vie ainsi que de modifications structurelles des besoins de déplacement quotidien des personnes. Individualisation des comportements, éclatement des structures relationnelles, désynchronisation spatiale et temporelle des rythmes... ont débouché sur un éparpillement des flux de mobilité dans de vastes bassins de vie qui tendent à être investis de façon globale en recourant à plusieurs réseaux de transport collectif ou plus souvent à l'automobile. Ces évolutions ont conduit à l'aggravation des difficultés de circulation et de stationnement dans et vers les secteurs les plus denses où sont déployés les réseaux de transport en commun les plus performants. C'est dans ce contexte socio-organisationnel que des stratégies de parcs relais, visant à organiser la complémentarité des moyens de transport collectif et individuel, ont été mises en oeuvre dans les agglomérations et régions françaises. Ils peuvent concrétiser trois principaux types d'enjeux pour leurs différents promoteurs potentiels entre lesquels un compromis de réalisation et gestion doit être trouvé : optimisation de la rentabilité de l'offre de transport sur laquelle sont rabattus les flux diffus, organisation de l'intermodalité et de transferts modaux pour améliorer la desserte territoriale, orientation du développement urbain par réaffectation d'espaces ou territorialisation en des noeuds de réseaux. Ils fonctionnent dans les faits en instruments de maintien de noyaux urbains concentrés dont ils facilitent l'accessibilité ; mais plus largement, à l'échelle fonctionnelle des régions urbaines, ils instaurent un modèle d'organisation hiérarchisée des réseaux dans lequel un déplacement peut être réalisé en utilisant successivement transport collectif et automobile, chacun dans leur domaine géographique d'efficacité socio-économique maximum. La confrontation des échecs ou succès mitigés, finalement obtenus en France, avec les expériences en la matière de pays tant planificateurs (Allemagne, Suisse) que libéraux (Etats-Unis, Royaume Uni), nous montre que des innovations techniques, organisationnelles et institutionnelles doivent être introduites aux étapes de localisation, conception et exploitation de ces pivots de chaînes modales, également interfaces avec le territoire. Elles devront assurer dans le même temps leur intégration dans des politiques locales de déplacement à resituer au sein de réflexions globales sur le fonctionnement et le devenir des aires urbaines.
Fichier principal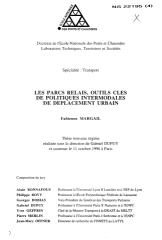 1996TH_MARGAIL_F_NS22195.pdf (53.79 Mo)
Télécharger le fichier
Origin : Files produced by the author(s)