The mining industry and the societal evolutions : what are the impacts of the expectations of the populations and local authorities on the development of the mining projects?
L'Industrie minière face aux évolutions sociétales : quels impacts des attentes des populations et des collectivités locales sur le développement des projets miniers ?
Since the beginning of the 1990s, almost throughout the world, bordering communities of mining projects oppose the proceedings of mining exploitation works. This phenomenon occurs in developed countries as well as in developing countries. It is also present both in democratic and in non democratic countries.To justify the determination to offer solutions to this problem, the first part of this work proves that the mining industry is the catalyst and the base of the modern economic growth and that, consequently, any disturbance in the safety of mining product supplying deserves a mobilization of the international community.In the second part, the conclusion shows that these mistrust actions are far from being ideological claims. They are simply the expression of a contemporary request which consists in integrating into mining resource development decisions the principles globalization is based on : the respect for the right to collective and individual development, the respect for human rights, including the right to the environment and the participation of communities or individuals in any decision-making that may affect their lives.In the third part, it is proved that the African continent has turned to be the new mining development pole since the end of the cold war. In these conditions, the study of the issue of the community mobilizations against mining exploitation, in four African countries with strong mining traditions such as Guinea and Morocco and in the process of mining development such as Mali and Ivory Coast, allows us to understand that mobilizations against mining projects do really exist in Africa.In these conditions and as a conclusion, it is first of all necessary to wish that the international community be concerned by this issue to organize a world summit on the future of the mining industry in the 20th century, and that a World Fund in the service of the Development of Communities Concerned by Mining Projects (FMDCAPM) be created.Secondly, one must consider, at the scale of the producing States, that the national mining policies be the reflection of a real consensus between the States, the mining companies and the local authorities by insisting on the necessity of giving the latter ones Investment funds fed by each project.Finally, and always at the scale of States, it is to wish that the search for solutions to be brought to both social and economic concerns of the zones affected by the mining projects be entrusted to an Autonomous National Authority (ANA) which will know how to negotiate at best, independently from governmental authorities, the interests of communities and local populations.
Depuis le début des années 1990, quasiment partout dans le monde, les communautés riveraines des projets miniers s'opposent au déroulement des travaux d'exploitation. Ce phénomène s'observe aussi bien dans les pays développés que dans les pays non développés. Il se vit également dans les pays démocratiques comme dans les pays non démocratiques.Afin de justifier la détermination à proposer des solutions à ce problème, la première partie de ce travail démontre que l'industrie minière est le catalyseur et le socle de la croissance économique moderne et que par conséquent, toute perturbation de la sécurité des approvisionnements en produits miniers mérite une mobilisation de la communauté internationale.Dans la deuxième partie, la conclusion montre que ces actions de défiance sont loin d'être des revendications à caractère idéologique. Elles sont tout simplement l'expression d'une requête contemporaine qui consiste à intégrer dans les décisions de mise en valeur des ressources minières les principes sur lesquels repose la mondialisation à savoir : le respect du droit au développement collectif et individuel, le respect des droits humains dont le droit à l'environnement et la participation des communautés ou des individus à la prise de toute décision pouvant avoir des conséquences sur leur existence.Dans une troisième partie, il est démontré que le Continent africain est devenu le nouveau pôle de développement minier depuis la fin de la guerre froide. Dans ces conditions, l'étude de la question des Mobilisations communautaires contre l'exploitation minière dans quatre pays d'Afrique aux traditions minières établies comme la Guinée et le Maroc et en voie d'émergence minière comme le Mali et la Côte d'Ivoire, permet de comprendre que les Mobilisations Contre les projets miniers sont bel et bien une réalité en Afrique.Les tentatives de solutions apportées et les institutions conçues pour leur mise en œuvre dans ce nouvel eldorado sont loin de mettre durablement la plupart des projets miniers qui y sont entrepris à l'abri des colères des manifestants. Toute chose qui expose l'économie mondiale à d'éventuels chocs qui seraient préjudiciables à la paix et à la sécurité internationale.Dans ces conditions et en guise de conclusion, il faut souhaiter dans un premier temps, que la communauté internationale se saisisse de la question pour organiser un sommet mondial sur l'avenir de l'industrie minière au XXIe siècle, et que soit créé un Fonds Mondial au service du Développement des Communautés Affectées par les Projets Miniers (FMDCAPM).Dans un deuxième temps, il faut envisager à l'échelle des États producteurs, que les politiques minières nationales soient le reflet d'un véritable consensus entre les États, les entreprises minières et les collectivités locales en insistant sur la nécessité de doter ces dernières de Fonds d'Investissement alimenté par chaque projet.Finalement, et toujours à l'échelle des États, il est à souhaiter que la recherche de solutions à apporter aux préoccupations tant sociales qu'économiques des zones affectées par les projets miniers soit confiée à une Autorité Nationale Autonome (ANA) qui saura négocier indépendamment des services gouvernementaux au mieux des intérêts des collectivités et populations locales.
Fichier principal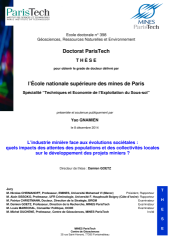 2014ENMP0086.pdf (10.34 Mo)
Télécharger le fichier
Origin : Version validated by the jury (STAR)