The challenge of multi-actor governance in public administration
L'administration publique à l'épreuve de la gouvernance multi-acteurs.
The development of participatory democracy, a wave of decentralization in all Europe...: over the last decades, the legitimization of a plurality of actors, besides the Central State, has been a cornerstone of public action. The increasing use of the notion of « Governance » to describe public action is one the main illustrations of this evolution, but the role of the Central State and its administration in this new context remains hardly known, at a time when public administration, its action and its organization, are precisely in a process of being re-­‐defined, empirically as much as theoretically. Our thesis ambitions to explore the following question: what does « administrating » involve in a context of governance? Drawing on the case of the emergence and implementation of a new activity in the French public administration (the Environmental Authority), we highlight the state of uncertainty and tension generated by the development of this new activity, which is rooted in the traditional administrative organization but needs to contribute to a new form of public action, conceived with a governance logic, in other words based on a multiplicity of actors with various influences and interactions in different configurations. We then analyze how a heterogeneous and variable public action is developed empirically through public officers' daily work. It is argued that this is both a difficulty and a resource for public action. Drawing on the organizational routine dynamics framework, this heterogeneity and variability of public action is theorized. Then, based on the proposition of different management dispositif, we show that « administrating » in a context of governance can be conceived as the capacity to both develop and regulate heterogeneity and variability in administrative action.
Développement de la démocratie participative, mouvement de décentralisation à l'échelle européenne...: les dernières décennies sont marquées par la légitimation d'une pluralité d'acteurs autres que l'État central dans la construction de l'action publique. Si le développement du terme de « gouvernance » pour désigner l'action publique contemporaine décrit bien cette évolution, il laisse en suspens la question du rôle de l'Etat et de son administration dans ce renouvellement, alors même que les principes d'action et les modes d'organisation de l'administration publique sont eux-­‐mêmes en redéfinition, théorique et empirique. Notre thèse propose d'étudier la question suivante : qu'est ce qu' « administrer » dans un contexte de gouvernance ? A partir de l'étude d'un cas d'émergence et de mise en place d'une nouvelle activité (l'Autorité Environnementale) au sein de l'administration publique d'État française, nous mettons tout d'abord en lumière les incertitudes et les tensions auxquelles donne lieu le développement d'une activité administrative, certes fortement insérée dans les circuits administratifs traditionnels, mais pour contribuer à la réalisation d'une action publique conçue dans une logique de gouvernance, c'est-­à-­dire s'appuyant sur la pluralité des acteurs, leurs influences et leurs interactions dans différentes configurations. Nous analysons ensuite la manière dont se construit sur le terrain, dans le travail des agents publics, une action qui se révèle hétérogène et variable, ce qui constitue à la fois un problème et une ressource pour l'action publique. A partir d'une théorisation de cette hétérogénéité et variabilité dans le cadre des dynamiques de routines organisationnelles et sur la base de propositions de dispositifs de gestion, nous montrons qu'administrer en contexte de gouvernance se définit dans la capacité de l'organisation à en même temps développer et réguler l'hétérogénéité et la variabilité de l'action administrative.
Fichier principal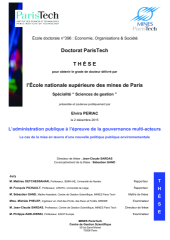 2016 01 Thèse Elvira Periac - pour dépôt (1).pdf (28.62 Mo)
Télécharger le fichier