Energy retrofits in French dwellings : microeconometric analysis of households' choices.
Rénovation énergétique de l'habitat en France : analyse microéconométrique du choix des ménages.
Little research has been done to date on French households' preferences for energy retrofits in the dwelling. However, the economic role of these choices is crucial for implementing an effective and realistic energy policy in the residential sector, both in terms of proposed aid and targets. Are households interested in retrofits with high energy-savings potential? How much are they willing to pay and is it sufficient to cover the up-front costs? How many households have no choice of heating system, and what is their profile?This work sets out to answer these questions empirically using discrete choice models. It starts by analyzing the technical, socio-demographic and spatial constraints that face households and create barriers to domestic energy choices. A method to detect household constraint is devised and applied to the choice of space heating system in 2006 and 2013. The second stage analyzes household preferences for heating equipment and retrofits. This second part is based on a discrete choice experiment specially carried out for this research among 2,000 households. This work sheds light on households' preferences and heterogeneity, as well as their willingness to pay, the implicit discount rate and other economic impacts.
Les préférences des ménages français pour les travaux de rénovation énergétique dans le logement ont été peu étudiées jusqu'à présent. Or, elles sont la clé d'une politique énergétique efficace et réaliste pour le secteur résidentiel, tant au niveau des aides proposées, qu'au niveau des objectifs à réaliser. Les ménages sont-ils intéressés par des travaux à fort potentiel d'économie d'énergie ? Combien sont-ils prêt à payer et est-ce que c'est suffisant pour couvrir les coûts réels ? Combien de ménages n'ont pas le choix de leur mode de chauffage et quel est leur profil ?La thèse s'attache à répondre à ces questions de façon empirique à l'aide de modèles de choix discrets. Il s'agit, dans un premier temps, d'analyser les contraintes techniques, sociodémographiques et spatiales que rencontrent les ménages et qui entravent les choix énergétiques dans le logement. Une méthodologie de détection des ménages contraints a été proposée, puis appliquée au choix du chauffage en 2006 et 2013. Dans un deuxième temps, les préférences des ménages pour les équipements de chauffage et les travaux de rénovation ont été analysées. Cette deuxième partie utilise une enquête expérimentale qui a été réalisée spécialement pour ce travail de recherche auprès de 2000 ménages. Ce travail a permis de comprendre les préférences des ménages, leur hétérogénéité, et d'en déduire les consentements à payer, les taux d'actualisation implicites et les différents effets économiques.
Fichier principal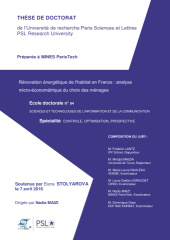 2016PSLEM011_archivage.pdf (5.55 Mo)
Télécharger le fichier
Origin : Version validated by the jury (STAR)