The mobilization work of an activist group. Tactical repertoire, media and members implication.
Le travail de mobilisation d'un groupe activiste. Le répertoire tactique, les médias et l'implication de ses membres.
This work analyses activist groups as organizations of social movements. Firstly, I study how activists express their message by mobilizing symbols (discourses, demeanor, objects…) in order to build a set of performances called the "tactical repertoire". To do so, they draw inspiration from their predecessors and their theoretical frames. Secondly, I describe how activists mobilize media. Their media strategy relies both on the tactical repertoire and the integration of activists into the group. Finally, I enquire how the activist group mobilize its members (how it recruits and retains them); the acquisition of emancipatory skills is a particularly strong motivation for activists. In the conclusion, I show that the tactical repertoire is the backbone of an activist group as it participates in all the tasks described (mobilization of symbols, of media and of activists). This specific characteristic defines the activist group as an organization. I rely on a one-year-long ethnography among the French feminist activist group La Barbe, which denounces the absence of women at the head of organizations. I also reflect on the methodological implications of observing a feminist activist group as a male ethnographer.
Notre travail explore les groupes activistes en tant qu'organisations de mouvements sociaux. Pour cela, nous étudions comment les activistes expriment leur message en mobilisant des symboles (discours, position du corps, objets…) pour construire un ensemble de performances spécifiques appelé le répertoire tactique. Pour ce faire, ils s'inspirent de leurs prédécesseurs et de leurs cadres théoriques. Dans un deuxième temps, nous décrivons comment les activistes mobilisent les médias à l'aide d'une stratégie médiatique, reposant à la fois sur le répertoire tactique et sur une certaine intégration des activistes en son sein. Enfin, nous analysons les moyens par lesquels le groupe activiste mobilise ses membres (c'est-à-dire les recrute et les retient) ; cela passe en particulier par l'acquisition de compétences émancipatrices pour les activistes. En conclusion, nous montrons que le répertoire tactique constitue la colonne vertébrale d'un groupe activiste et participe à toutes les tâches que nous avons décrites (mobilisation de symboles, des médias et des activistes). Cette spécificité définit le groupe activiste en tant qu'organisation. Nous nous appuyons sur un travail ethnographique d'un an auprès du groupe activiste féministe La Barbe qui dénonce l'absence de femmes en haut des organisations. Notre travail s'accompagne d'une réflexion méthodologique sur l'observation d'un groupe féministe par un ethnographe homme.
Fichier principal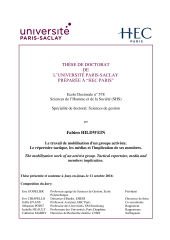 HILDWEIN_2016_thesis.pdf (6.19 Mo)
Télécharger le fichier
Origin : Version validated by the jury (STAR)