Homogenization of oriented discrete media. An application to the foams
Homogénéisation des milieux discrets périodiques orientés. Une application aux mousses.
Ces dernières années ont vu un renouveau d'intérêt pour les matériaux cellulaires tels que les mousses. Ces matériaux possèdent un comportement propice à l'absorption de choc mécanique pour une faible masse volumique. Ils sont par leur microstructure très proches d'assemblage périodique de treillis de poutres. Nous les décrivons donc par des particules (les extrémités des poutres) douées de mouvement de translation mais aussi de rotation. Entre ces particules, des lois d'interaction sont appliquées pour remplacer les poutres. Cette description fait l'objet de cette thèse transformant ainsi l'étude de ces matériaux en une étude sur les milieux discrets périodiques. Ce travail porte plus particulièrement sur la méthode d'homogénéisation de ces milieux discrets à cinématique enrichie. Dans un premier temps, afin d'examiner l'apport des rotations dans la description cinématique, nous avons étudié comment un milieu continu microscopique élastique linéaire capable de mouvement en rotation était rendu à l'échelle macroscopique. Suivant les hypothèses du comportement microscopique, nous avons vu apparaître un milieu connu classique ou de Cosserat à l'échelle macroscopique. Puis dans un second temps, nous avons injecté la composante discrète du problème posé pour examiner le devenir d'un réseau de particules orientés en interaction par changement d'échelle. Cette étude a fait naturellement apparaître une dépendance en fonction des hypothèses sur les lois d'interaction entre les particules tant sur les comportements élastiques linéaires que non linéaires. Une fois ces développements terminés, la méthode est appliquée sur des structures comme les milieux composés de nids d'abeille ou les mousses considérées comme un assemblage tridimensionnel de poutres formant un pavage périodique du matériau en tétrakaidécaèdres. Par cette description, les comportements en élasticité linéaire sont obtenus ainsi que l'initiation du flambement élastique de ces matériaux complexes.
Fichier principal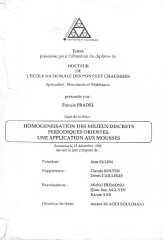 pradel98thesis.pdf (2.16 Mo)
Télécharger le fichier
Origin : Files produced by the author(s)