Contribution to the understanding of the glass atmospheric alteration mechanisms and study of a zinc salt protective treatment. Application in the cultural heritage field
Contribution à la compréhension des mécanismes de l'altération atmosphérique des verres et étude d'un traitement de protection à base de sels de zinc. Application à la conservation des objets en verre du patrimoine culturel.
In the cultural heritage field, it is of major concern to develop new protective methods for ancient glass objects that decay under atmosphere. In this framework, two complementary research directions are undertaken. The first one aims to get a better understanding of the glass atmospheric alteration mechanisms at a small scale. The second one is focused on the potentiality of a zinc salt surface treatment. By the mean of accelerated ageing experiments (temperature and humidity control) of replica glasses (alkali silicates), untreated or zinc salts treated, the evolution of the glass surface and sub-surface with atmospheric alteration is evaluated at different scales (macro – nano). These surface modifications are compared to the properties of hydrated layers of ancient glass objects that have been altered over decades. The influence of the ageing temperature and the glass composition on the atmospheric alteration mechanisms are highlighted. In particular, these parameters affect the proportion of alkali elements that are retained into the hydrated layer, which would severely impact the glass chemical durability. Positive effect of a zinc salt treatment to reduce the replica glasses hydration kinetics is shown with ageing experiments at 80 °C or 40 °C, when the glass surfaces are not pre-altered before the deposit. The formation of thermally activated zinc species that react with the glass surface are put in evidence as well as their predominant role in the protection mechanisms. Therefore, a zinc salt treatment might be considered if a heating step of the glass object is accepted (around 60 °C). However, the treatment performances seem to be strongly dependent on the surface alteration degree before the deposit. This is a decisive point as regards the relevance of the treatment for the glass artwork conservation, which should be investigated deeper. Others directions of research are arisen in this work and should be followed to propose new protective methods in the longer term.
La proposition de nouvelles solutions de protection efficaces contre l'altération atmosphérique des œuvres en verre du patrimoine se révèle être d'un intérêt majeur dans le monde des musées. Dans cette visée, la présente recherche se donne pour objectifs d'étudier les mécanismes de l'altération atmosphérique des verres à une échelle fine, ainsi que la potentialité d'un traitement de surface à base de sels de zinc. L'étude repose principalement sur des vieillissements accélérés (contrôle de la température et de l'hygrométrie) de verres répliques (silicates alcalins), non traités ou traités aux sels de zinc. Les modifications résultantes, à la surface et en sub-surface des verres, sont suivies à différentes échelles (macro - nano). Ces transformations sont confrontées à des cas réels d'altération, par la caractérisation de couches altérées d'objets du patrimoine. Il est mis en évidence une forte influence de la température de vieillissement et de la composition du verre sur les mécanismes de l'altération. De ces paramètres dépend notamment la propension des couches altérées à retenir les alcalins, qui apparaît déterminante dans la durabilité chimique du verre. L'effet bénéfique d'une faible quantité de sels de zinc sur la diminution de la cinétique de l'altération des verres répliques, à 40 °C ou à 80 °C, est observé lorsque le dépôt est réalisé sur des surfaces non préalablement altérées. Les mécanismes de protection mettraient principalement en jeu des espèces de zinc dont la formation est thermiquement activée. Aussi, ce type de traitement ne pourrait être envisagé qu'avec une étape de chauffage du verre, autour de 60 °C. Cependant, les performances du traitement apparaissent fortement dépendantes du degré d'altération de la surface avant le dépôt. Ce point est déterminant pour l'application visée et doit être approfondi. Par ailleurs, d'autres pistes de recherche très intéressantes pour la conservation des œuvres en verre sont soulevées dans ce travail de thèse.
Fichier principal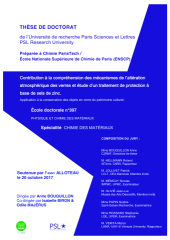 fix_t8tp5xEU.pdf (132.04 Mo)
Télécharger le fichier
Origin : Files produced by the author(s)