Institutional arrangements at the age of genomics : a comparative approach of animal selection regimes and instruments in three European countries.
Arrangements institutionnels à l'ère de la génomique : une approche comparative des régimes et des instruments de sélection animale dans trois pays européens.
Since the early 2000s, the development of genomics, which enables extensive knowledge of the DNA of living entities, has transformed the way in which living entities are evaluated, selected (genomic selection of plants and animals) and marketed. Coupled with political and regulatory changes, this technology contributes to modify the national institutional arrangements in the targeted field of animal genetic improvement, practices of actors. The current liberalization process questions both the collective dimension of genetic progress and the property rights of the genetic resources. In a comparative perspective between France, Ireland and The Netherlands, the objective of this thesis is to analyze the plurality of institutional arrangements pertaining to the Holstein cattle breed's genomic selection. This thesis is situated within the recent evolutions of the neo-institutional theory focused on organizational heterogeneity and materiality of institutions. Firstly, it highlights three institutional regimes that reveal different arrangements particularly between public and private organizations. Secondly, this diversity of arrangements is completed by an analysis of contractual tools between breeding companies and animal breeders through models of production strategies and exchanges related to genetic resources (both biological and informational forms). These models emphasize a variety of property forms of genetic resources between companies and breeders and also show that actors' roles in genetic selection activities are redefined. These results provide a better understanding of the development of a liberal logic (The Netherlands) in duality with the reinforcement (Ireland) or weakening (France) of a cooperative logic for the production of improved animal genetics.
Depuis les années 2000, le développement de la génomique, permettant une connaissance étendue de l'ADN des êtres vivants, transforme la façon dont ceux-ci sont évalués, sélectionnés (sélection génomique des plantes et animaux) et mis en marché. Couplée à des changements politiques et règlementaires, cette technologie contribue à faire évoluer les arrangements institutionnels dans le champ étudié ici de l'amélioration génétique animale, aussi bien au niveau des dispositifs nationaux que des pratiques des acteurs. La libéralisation en cours questionne notamment la dimension collective de la production du progrès génétique et les droits de propriétés sur les ressources génétiques. Dans une perspective comparative entre la France, l'Irlande et les Pays-Bas, cette thèse a pour objectif d'analyser la pluralité des arrangements institutionnels établis dans le champ de la sélection génomique de la race bovine Holstein. Elle mobilise les évolutions récentes de la théorie néo-institutionnelle s'intéressant à l'hétérogénéité organisationnelle et à la matérialité des institutions. Premièrement, elle met en évidence trois régimes institutionnels qui révèlent des arrangements différents notamment entre organisations publiques et privées. Deuxièmement, cette diversité d'arrangements est précisée par l'analyse des instruments contractuels entre entreprises de sélection et éleveurs via des modèles d'organisation de la production et des échanges de ressources génétiques (sous leurs formes biologiques et informationnelles). Ces modèles illustrent la diversité des formes de propriété dont ces ressources génétiques font l'objet entre éleveurs et entreprises et, montrent que les rôles respectifs de ces acteurs sont redéfinis. Ces résultats permettent de mieux comprendre le développement d'une logique libérale (Pays-Bas) en dualité avec le renforcement (Irlande) ou la fragilisation (France) d'une logique coopérative de production du progrès génétique.
Fichier principal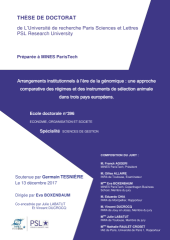 2017PSLEM058_archivage.pdf (4.07 Mo)
Télécharger le fichier
Origin : Version validated by the jury (STAR)