Study of the kinetics of localized corrosion. Mesoscopic approach by cellular automata.
Etude de la cinétique de la corrosion localisée. Approche mésoscopique par automates cellulaires.
In this thesis, we will study in particular the localized corrosion characterized by the anodic and cathodic reactions taking place in separate places. This separation of the two electrochemical half-reactions coupled with the charge transfer (IR drop) or matter (ionic diffusion) will contribute in the explanation of the corrosion's kinetic. the morphologies of corrosion pitting, crevice ... that result. The aim of the thesis is to develop a realistic model that realize significant couplings determining the kinetics of corrosion and validate it on the basis of observations to allow predictions in the longer term. From a practical standpoint, the simulations will be developed on GPU (Graphical processing unit) by optimizing the efficiency of this parallelism type of architecture.
Dans cette thèse, on va étudier plus particulièrement la corrosion localisée qui se caractérise par des réactions anodiques et cathodiques ayant lieu en des endroits distincts. Cette séparation des deux demi-réactions électrochimiques couplée avec le transfert de charge (chute ohmique) ou de matière (diffusion des ions) déterminent en grande partie la cinétique de ce type de corrosion ainsi que les morphologies de la corrosion piqûres, crevasses ... qui en résultent. L'objectif de la thèse sera de développer un modèle réaliste susceptible de rendre compte des couplages importants déterminant la cinétique de la corrosion et de le valider sur la base d'observations en vue de permettre des prédictions à plus long terme. D'un point de vue pratique, les simulations seront développées sur GPU (graphical processing unit) en optimisant l'efficacité du parallélisme sur ce type d'architecture.
Fichier principal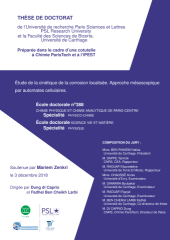 Mariem_Zenkri_OK.pdf (13.79 Mo)
Télécharger le fichier
Origin : Version validated by the jury (STAR)