Implementation of a methodology for the assessment, by customers, of an innovative product during its design process. Integration of innovations in the automotive field.
Mise en place d'une méthodologie pour l'évaluation par des clients de produits innovants au cours de leur conception. Application à l'intégration d'innovations dans le domaine automobile
The purpose of this research is to obtain the appraisal and feelings of customers, translated by product attributes, about an innovative product during its design process, i.e. without all the sensory and functional features available like for a finished product. Two main goals are to inquire the customers' ways of thinking early in the design process and to compare several products themselves or the same product at different stages in the process. The objective is to help the designers and managers decision.To meet these goals, we realized and checked several methodological approaches:• To offset the lack of sensory and functional features of an innovation's prototype, we created a "sensorial brochure",• To facilitate the product assessments' comparison, we created a standard questionnaire to inquire customers. In fact, with a bibliographic research of the hedonic and pragmatic attributes involved in the assessment of a product, we created a list of statements,• To validate these methodological tools, we realized a comparative approach at several milestones or stages of the design process. In total, we realized six customers' assessments at different stages of the design process with 302 respondents.Then we studied and compared the assessments' results. The aim is to validate the construction of the sensorial brochure and the questionnaire and to conclude from the innovation's prototype assessments at different stages of the design process. The questionnaire needs to be improved but it has already permitted to inquire the customers on their hedonic and pragmatic attributes in front of a product. The sensorial brochure helps customers to imagine the future product.
L'objet de ces travaux de recherche est de recueillir auprès de clients leur appréciation et leurs ressentis, traduits par des attributs de produit, face à une innovation en cours de conception, c'est-à-dire sans la totalité des informations sensorielles et fonctionnelles normalement disponibles sur un produit fini.Les deux objectifs principaux sont de prendre en compte les avis des clients tôt dans le processus de conception d'une innovation et de pouvoir comparer plusieurs innovations entre elles ou une même innovation à plusieurs stades de développement, en vue d'aider la prise de décisions des concepteurs et des décideurs.Afin de répondre à ces objectifs, plusieurs démarches méthodologiques sont réalisées et vérifiées :• En vue de compenser le manque de caractéristiques sensorielles et fonctionnelles d'une représentation intermédiaire d'une innovation, nous avons mis en place un « descriptif sensoriel »,• En vue de faciliter les comparaisons d'évaluations de produit, nous avons mis en place un questionnaire standard d'évaluation des avis clients. En effet, sur la base d'une recherche bibliographique des attributs de produit de qualités hédonique et pragmatique intervenant dans l'évaluation d'un produit, nous avons créé une liste d'affirmations à noter,• En vue de valider ces outils méthodologiques, nous avons réalisé une démarche comparative de plusieurs jalons ou stades de développement. Au total, nous avons réalisé six évaluations clients d'une même innovation à différents jalons du processus de conception auprès de 302 évaluateurs.Les résultats d'évaluation obtenus sont ensuite étudiés et comparés. Le but est de valider la construction du descriptif sensoriel et du questionnaire et d'apporter nos conclusions quant à l'évaluation de représentations intermédiaires à différents stades du processus de conception.Le questionnaire standard d'évaluation nécessite d'être affiné mais permet déjà de s'enquérir d'attributs de qualités hédonique et pragmatique d'un produit du point de vue des clients. Le descriptif sensoriel facilite la projection des clients vers ce que sera le futur produit.
Fichier principal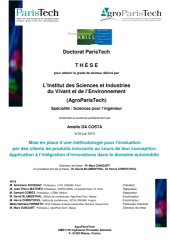 Da_Costa.pdf (9.07 Mo)
Télécharger le fichier
Origin : Version validated by the jury (STAR)