Indicators of biodiversity between knowledge and conservation actions : impasse, detour or shortcut for environmental stratégies?
Les indicateurs de biodiversité entre connaissances et actions : impasses, détours ou raccourcis pour les stratégies environnementales ?
For twenty years biodiversity indicators have been elaborated at all scales of public policies. Our thesis proposes a strategic analysis of the design and use of indicators based on four case studies. Our goals are first to understand the strategic role of indicators at the interface between knowledge and action, and second to propose useful insights to researchers and practitioners who design and use biodiversity indicators in the field.The biodiversity indicators that we have studied contribute to at least two types of conservation practitioners' strategies : strategies of intervention, which main focus is to help some actors to better integrate biodiversity in various collective action systems ; and strategies of positioning, which main objective is to modify power relationships in a way that benefits to those actors. In the current context in which scientific expertise prevails more than militant actions, biodiversity indicators are mostly used in strategies to reinforce a temporary disconnection between knowledge and action and to improve environmental actors positioning. The interest in using indicators lies partly on their ability to simultaneously connect and disconnect knowledge and action depending on the strategic needs of actors. Furthermore, conservation actors are confronted to a double objective : (1) to propose indicators that can be part of the existing action system and (2) that can modify this action system, by bringing new conceptions of biodiversity, new rules, new power relationships, etc. In this perspective, actors try to anticipate future evolutions of the action system. In our work, the mobilization of negotiation studies allows us to clarify actors' perspectives and to better understand how various action systems work. More generally, the strategic analysis of indicators that we developed in this thesis, inspired by management sciences, is complementary to sociology and policy sciences approaches on instruments, and more precisely on indicators. It underlines new aspects of the contribution that indicators can bring to biodiversity conservation.
Depuis une vingtaine d'années, une multitude d'indicateurs de biodiversité sont utilisés à toutes les échelles de l'action publique. Dans cette thèse, qui s'appuie sur une analyse stratégique des indicateurs et sur quatre études de cas, nous essayons de comprendre le rôle stratégique joué par les indicateurs à l'interface entre connaissances et actions, et d'accompagner les acteurs qui les conçoivent dans leur réflexion pour une action plus efficace en faveur de l'environnement.Les indicateurs de biodiversité que nous avons étudiés peuvent contribuer, pour les acteurs qui portent des enjeux de biodiversité, aussi bien à des stratégies d'intervention sur le système d'action, de manière à ce que la prise en charge de la biodiversité soit améliorée, qu'à des stratégies de positionnement pour modifier les relations de pouvoir et les rendre plus favorables à ces acteurs. Dans un contexte qui tend à favoriser l'expertise scientifique plus que l'action militante, les indicateurs de biodiversité s'insèrent souvent dans des stratégies efficaces pour jouer sur une forme de déconnexion temporaire entre connaissances et actions et améliorer le positionnement des acteurs d'environnement. L'intérêt spécifique des indicateurs repose ainsi en partie sur leur potentiel à simultanément connecter et déconnecter connaissances et actions en fonction des besoins stratégiques des acteurs. Par ailleurs, les concepteurs d'indicateurs sont confrontés à un double enjeu : proposer des indicateurs qui s'insèrent dans le système d'action existant, mais aussi qui aient le potentiel de modifier ce système d'action, par exemple en apportant de nouvelles conceptions de la biodiversité, de nouvelles règles, de nouvelles relations de pouvoir, etc. Les acteurs cherchent donc à anticiper les développements futurs du système d'action. Dans ce travail, la mobilisation des travaux sur la négociation permet non seulement de clarifier les perspectives possibles pour les acteurs mais aussi de comprendre le fonctionnement du système d'action. Plus généralement, l'analyse stratégique des indicateurs développée dans cette thèse, conduite dans une perspective inspirée des sciences de gestion, est complémentaire des travaux de sociologie et sciences politiques sur les instruments, et les indicateurs en particulier. Elle éclaire de nouvelles facettes de la contribution des indicateurs à l'action en faveur de la biodiversité.
Fichier principal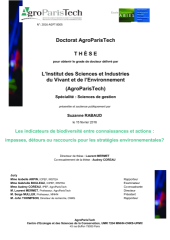 50036_RABAUD_2016_archivage.pdf (8.12 Mo)
Télécharger le fichier
Origin : Version validated by the jury (STAR)