Farm-scale approach for protecting and recovering groundwater quality. Experiencing co-design method with two groups of farmers
L'approche systémique à l'échelle de l'exploitation agricole au service de la qualité des eaux souterraines. L'expérience d'une démarche de co-conception avec et par les agriculteurs.
Controlling groundwater diffuse pollution induced by agricultural practices has been receiving strong attention in the European Union (EU) for the last 30 years. However, in France, it remains a significant issue from farming activity. In this context, designing scenario that would tackle this issue and would be sustainably implemented by farmers have become major challenges. This research aims at taking into account each farm's components (cropping system, resources…) and each farmers' specific strategy to design and foster transition towards groundwater-friendly farming system.First, we studied regulatory measures from Nitrate Directive that do not take into account local pattern. We worked in two case studies, with groundwater quality issues related to nitrates and pesticide pollution: Plaine des Chères and Val de Durance. Farmers located within these two fields, present various farming system and a disparity motivation in changing their practices.Based on semi-directive interviews with 22 French farmers from these two territories, we developed a farm-scale method to assess how they implemented these measures and their suitability with their farming system. The results show that they are mostly not suitable and were actually gave up as soon as the regulation stopped during this research.Considering this first conclusion, we sought to develop a participatory approach that will have greater success in encouraging farmers to adopt sustainable agricultural practices. Our method exclusively involves farmers to co-design more sustainable farming system over the course of individual interviews and collective workshops. The main guidance during this process was farmer empowerment: if farmers are encouraged to take ownership of redesigning, they should be more likely to implement substantial change. They shared diverse and local knowledge, and discussed relevant changes that could help their peers address a given challenge or project. Indeed, the farmers in the test groups implemented some of the recommendation in the months following the co-design process. This participatory approach could also be replicated in different regions and for different environmental challenges (e.g., groundwater quantity, erosion) since the greater goal is to encourage more sustainable farming practices (e.g., conservation tillage, agroecology).
En premier lieu, nous avons étudié l'application des mesures proposées dans le cadre de la directive nitrates. Par leur standardisation, ces mesures sont écrites sans prendre en compte la diversité de fonctionnement des exploitations agricoles. Appuyé sur des entretiens avec 22 agriculteurs situés sur ces deux territoires, l'application par les agriculteurs de ces mesures et leur adéquation avec le fonctionnement de leur exploitation agricole ont été étudiées. Cette analyse montre qu'un grand nombre de mesures réglementaires sont peu cohérentes, ce qui conduit à des résultats insuffisants tant en termes de qualité des eaux souterraines que d'engagement dans la durée, notamment quand l'obligation est levée. Depuis 2000, la Directive Cadre pour l'Eau fixe des objectifs ambitieux imposant un retour vers le bon état physicochimique et écologique des eaux de consommation. Toutefois, la pollution des eaux souterraines par les nitrates et les pesticides d'origine agricole persiste en France malgré la création de dispositifs réglementaires depuis bientôt 30 ans. L'enjeu actuel est donc double ; concevoir des scénarios qui permettent de protéger et reconquérir la qualité́ des eaux souterraines et favoriser leur mise en oeuvre à long terme par les agriculteurs. L'objectif de cette thèse est d'explicitement prendre en compte le fonctionnement global de l'exploitation agricole afin de concevoir et favoriser sa transition vers des combinaisons de systèmes de culture qui répondent à l'enjeu de protection de la qualité́ des eaux souterraines. Nous avons travaillé́ sur deux territoires du bassin Rhône Méditerranée Corse, présentant des eaux souterraines polluées par les nitrates et pesticides, la Plaine des Chères (69) et Val de Durance (04). Ces deux territoires présentent des exploitations agricoles aux systèmes variés, qui montrent une dynamique contrastée face au changement.La deuxième partie a donc porté sur le développement d'une démarche participative afin de proposer de nouvelles pratiques en adéquation avec le fonctionnement des exploitations agricoles et engager une transition dans la durée garantissant la protection de la ressource en eau. L'objectif de cette démarche, caractérisée par une participation exclusive des agriculteurs, est de co-concevoir des scénarios "sur mesure" à l'échelle de l'exploitation agricole. Ces scénarios répondent aux projets des agriculteurs tout en permettant une limitation des pollutions d'origine agricole. Cette méthode a été expérimentée avec deux groupes d'agriculteurs provenant des deux territoires d'étude. Les résultats montrent que l'expertise collective des agriculteurs a produit des propositions de changements qui encouragent une mise en oeuvre de la part des agriculteurs tout en permettant de diminuer la pression polluante sur les eaux souterraines. En effet, certains agriculteurs de ces deux groupes ont mis en oeuvre les propositions dans les mois qui ont suivis la démarche.
Fichier principal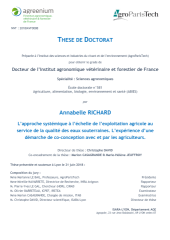 68308_RICHARD_2018_archivage.pdf (13.25 Mo)
Télécharger le fichier
Origin : Version validated by the jury (STAR)