Territorial governance and retail development in peripheral areas of Paris and London : what impacts on urban patterns and spatial inequalities?
Gouvernance foncière et développement commercial en périphérie de Paris et Londres : quels impacts sur les formes urbaines et sur les inégalités territoriales ?
My work deals with land governance and control of urban expansion in the peripheral areas of large metropolis. I address the following issues: what public tools and modalities of action do public authorities use to control urban development in peripheral territories? What impacts do land policies have on urban patterns and do they contribute to tackling spatial inequalities? While presenting and taking into account the institutional and legal frameworks of land management in both countries, the study focuses on public tools used in the peripheral areas of London and Paris. My methodology includes a comparative analysis of land use policies and land governance systems in France and England. I use spatial statistics and econometric methods and we have chosen to investigate public tools dedicated to retail development in order to bring some concrete insights into land use policies. The first article deals with land use conflicts in France and England. I then study land policies dedicated to retail in order to assess what use local authorities make of them (article 2), their impacts on urban patterns (article 3) and their role in fighting against spatial inequalities (article 4).
Ce travail s'inscrit dans le champ des études sur la gouvernance foncière et la maîtrise du développement urbain. La problématique en est la suivante : quels outils et quelles modalités d'action les autorités publiques, aussi bien centrales que locales, mobilisentelles pour contrôler le développement urbain dans des territoires périphériques des grandes métropoles, soumis à une forte pression foncière ? Les politiques foncières permettent-elles de maîtriser les formes que prend le développement urbain en périphérie et de lutter contre les inégalités territoriales ? Notre analyse se construit à partir d'une comparaison des outils et modes de gouvernance foncière en France et en Angleterre. L'étude, tout en présentant et en prenant en compte les cadres institutionnels et juridiques de la gestion foncière dans les deux pays, porte principalement sur les périphéries de Londres et Paris. Nous utilisons des outils d'analyses statistiques spatiales et économétriques et nous utilisons principalement l'exemple de la maîtrise du développement commercial par les politiques foncières. Le premier article traite des conflits dans l'usage du foncier en Angleterre et en France. Nous étudions ensuite les politiques foncières dédiées au commerce, afin d'évaluer leurs usages (article 2), leurs impacts sur les formes de développement urbain (article 3), puis leur rôle dans la lutte contre les inégalités territoriales (article 4).
Fichier principal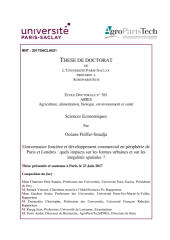 59398_PEIFFER-SMADJA_2017_diffusion.pdf (1.67 Mo)
Télécharger le fichier
Origin : Version validated by the jury (STAR)