Effect of process and corrosion defects on the fatigue behaviour of a 316L stainless steel additively manufactured.
Effet des défauts de fabrication et de corrosion sur le comportement en fatigue d'un acier 316L obtenu par fabrication additive.
Laser Powder Bed Fusion (L-PBF) is a booming additive manufacturing process in many industrial sectors. For renewable marine energies applications, mechanical and corrosion properties of components and structures operating under chemically aggressive environment conditions must be known to ensure optimized design. This thesis work falls within this scope with a focus on the fatigue, corrosion and atmospheric corrosion-fatigue of a L-PBF 316L stainless steel. The as-built L-PBF 316L microstructure is very different from its wrought counterpart. The L-PBF process is also at the origin of defects, such as Gas Pore (GP) or Lack of Fusion (LoF). The main purpose of this study is to get a better knowledge of the influence of these defects on the corrosion and fatigue behaviours. It is observed that for corrosion in a neutral saline solution or under salt-spray, inherent defects do not affect the corrosion pit nucleation. In high cycle fatigue and without any pre-corrosion, LoF near the surface are almost systematically at the origin of the crack initiation. The introduction of corrosion pits before the fatigue loading reveals a competition between L-PBF related defects and corrosion pits populations. More precisely, the uniaxial fatigue behaviours of three distinct batches are studied. Polished samples, precorroded samples and samples with artificial hemispherical defects are tested. A correlation between the defect at the origin of the crack initiation size and the fatigue strength is observed independently of the critical defect type. Various factors that could affect the defect criticality (morphology, local microstructure) are discussed. In order to model the impact of defects of different types, two different approaches are developed and compared. The first one, based on linear elastic fracture mechanics, takes into account the position and size of the defect. The second one is a non-local approach using finite element simulations and a multiaxial fatigue criteria. In this approach, some morphologic parameters of the critical defects are considered, in addition to its size and position.
La Fusion Laser sur Lit de Poudre (FLLP) est un procédé de fabrication additive en plein essor dans de nombreux secteurs industriels. Pour ce qui est des énergies marines renouvelables, la maîtrise des propriétés mécaniques et à la corrosion descomposants et structures amenés à évoluer dans des environnements sévères est indispensable pour assurer un dimensionnement optimum. Les travaux de cette thèse s'inscrivent dans ce cadre et portent plus particulièrement sur la caractérisation et la modélisation des comportements en fatigue, corrosion et fatigue-corrosion atmosphérique d'un acier inoxydable 316L obtenu par FLLP. La microstructure du 316L FLLP brut est très différente de celle observée pour sonéquivalent conventionnel. La FLLP est également à l'origine de défauts, tels les pores gazeux et les manques de fusion. L'objectif principal de cette étude est la meilleure connaissance de l'impact de la présence de ces défauts sur les comportements en fatigue et en corrosion. Que ce soit en corrosion en solution saline neutre ou sous brouillard salin, on observe clairement que la présence des défauts inhérents au procédé n'affecte pas la nucléation des piqûres de corrosion.En fatigue à grand nombre de cycles et en l'absence de corrosion préalable, les manques de fusion proches de la surface sont quasi-systématiquement à l'origine de l'amorçage de la fissure entraînant la ruine. La présence de piqûres de corrosionintroduites avant l'application du chargement de fatigue permet de mettre en évidence une compétition entre la population des défauts relevant du procédé et celle relative aux piqûres. Plus précisément, les comportements en fatigue uniaxiale associés à trois lots distincts sont étudiés. Des échantillons polis, pré-corrodés et avec défauts hémisphériques électroérodés sont testés. Une corrélation entre la taille du défaut à l'amorçage et la limite d'endurance est observéeindépendamment de la nature du défaut critique. Les différents facteurs pouvant affecter la criticité d'un défaut (morphologie, microstructure locale) sont discutés. Pour modéliser l'impact de la présence des défauts associés aux trois lots, deux approches différentes sont mises en place et comparées. La première, basée sur la mécanique linéaire de la rupture, permet de prendre en compte la position et la taille du défaut. La seconde est une approche non-locale s'appuyant sur une modélisation éléments finis des défauts critiques et un critère de fatigue multiaxial. Elle permet de considérer différents paramètres morphologiques du défaut critique, en plus de sa taille et de sa position.
Fichier principal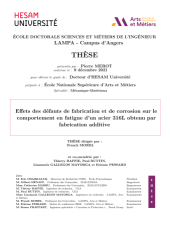 96074_MEROT_2021_archivage.pdf (305.72 Mo)
Télécharger le fichier
Origin : Version validated by the jury (STAR)