Design of a vehicle-to-vehicle fast charging grid and infrastructure using a fleet of shared electric vehicles.
Conception d'un réseau et d'une infrastructure de recharge rapide vehicle-to-vehicle à partir d'une flotte de véhicules partagés
V2V fast charging enables to recharge an electric vehicle by partially discharging one or several other electric vehicles having an excess of energy. The use of a fleet of carsharing electric vehicles as energy providers allows the carsharing operator to make additional profits when they are not rented. Moreover, the recharge of the fleet can be achieved at lower power than the V2V power transfer. Therefore the grid connection required to provide fast charging is reduced, which can mitigate the necessary grid upgrades. Besides, the lower power demand of the station could reduce the impact of electric vehicle charging at hours of peak power demand on the grid.This thesis is a collaboration between Institut Vedecom and L2EP Laboratory. In a first part, the goal is to build a simulation model of the coupled carsharing/V2V system, in order to assess the benefits for the actors of the grid, namely the Distribution Service Operator and the Transport Service Operator. In a second part, the design of a power converters architecture to control power flow between the vehicles involved and the grid is proposed and its experimental validation is achieved.
La recharge rapide Vehicle-to-vehicle (V2V) permet de recharger un véhicule électrique en manque d'autonomie en déchargeant partiellement un ou plusieurs véhicules électriques avec un surplus d'énergie. L'utilisation d'une flotte de véhicules électrique partagés pour la décharge permettrait à son gestionnaire de les valoriser lorsqu'ils ne sont pas utilisés pour le transport. De plus, la recharge des véhicules partagés peut se réaliser à une puissance plus faible que la puissance fournie en recharge rapide, ce qui permet de réduire la puissance de raccordement nécessaire au réseau de distribution, et les renforcements éventuels de ce dernier. Cette réduction de l'appel de puissance pourrait par ailleurs limiter l'impact des recharges sur le réseau aux heures de forte demande en électricité.Cette thèse s'inscrit dans une collaboration entre l'Institut Vedecom et le Laboratoire de Génie Electrique et d'Electronique de Puissance (L2EP). Dans une première partie, l'objectif est d'analyser à l'aide d'un modèle de simulation les bénéfices apportés par le V2V pour les acteurs du réseau électrique, à savoir le gestionnaire du réseau de distribution et de transport. Dans un second temps, la conception d'une architecture d'électronique de puissance permettant le pilotage du transfert d'énergie entre les véhicules, ainsi que sa validation expérimentale, sont réalisées.
Fichier principal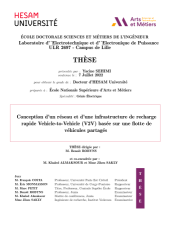 110391_SEHIMI_2022_archivage.pdf (53.84 Mo)
Télécharger le fichier
Origin : Version validated by the jury (STAR)