Dynamics of a rainwater film around a cable subject to wind.
Dynamique d'un film d'eau de pluie sur un hauban de pont soumis au vent.
Cables of cable-stayed bridges are likely to vibrate under the combined effect of rain and wind (Rain-Wind-Induced Vibrations, RWIV). During RWIV, 2 water rivulets are always observed along the involved cables. Moreover, a recent experiment (Alam and Zhou 2005), carried out with a fixed and rigid cylinder shows that the wake is considerably perturbed by the presence of rivulets. We present a new model describing the evolution of a thin water film surrounding a cylinder subject to wind that predicts the appearance of rivulets as well as their position and shape. We furthermore show that the rivulets only exist within a limited interval of Weber number (nondimensional number comparing wind effect and surface tension). A model for the interaction between the rivulets and the airflow that generated them is then exposed. In a Weber number interval, the wake behavior deviates from the Strouhal's law and the fluctuating transverse force on the cylinder is amplified: lock-in between the rivulets and the oscillating wake dynamics occurs. This yields an explanation for Alam's experiments. For configurations allowing RWIV of stay cables, the interval of rivulets existence and the interval of force amplification overlap. Does this mean that RWIV may be due to a rivulets-wake lock-in?
Les haubans de pont peuvent vibrer sous l'effet conjoint du vent et de la pluie (Rain-Wind-Induced Vibrations, RWIV). On observe toujours deux filets d'eau ruisselant le long du hauban sujet aux RWIV. De plus, une expérience récente (Alam et Zhou 2005), réalisée sur un cylindre fixe, montre que le sillage d'air est considérablement perturbé par la présence des filets. Nous présentons un modèle de film mince entourant un cylindre soumis au vent qui permet de prévoir l'apparition de filets, leur position et leur forme. Nous montrons en outre que l'existence des filets n'est possible que dans un intervalle de nombre de Weber, qui compare effet du vent et tension de surface. Un modèle d'interaction entre les filets et l'écoulement d'air environnant est ensuite exposé. Pour un intervalle de nombre de Weber, le détachement tourbillonnaire dévie de la loi de Strouhal et la portance fluctuante s'exerçant sur le cylindre est amplifiée, ce qui est en accord avec les expériences d'Alam. Pour les conditions de vent et de pluie qui président à l'apparition des RWIV, l'intervalle d'existence des filets et l'intervalle d'amplification de portance se recouvrent. Est-ce à dire que les RWIV peuvent être expliquées par un accrochage filets-sillage ?
Fichier principal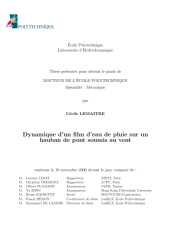 lemaitre.pdf (2.75 Mo)
Télécharger le fichier
Origin : Files produced by the author(s)