Firms, biodiversity and ecosystem services. What interactions and strategies? What accounting information systems?
Entreprises, biodiversité et services écosystémiques. Quelles interactions et stratégies? Quelles comptabilités?
Firms play major roles in biodiversity loss and are under increasing social pressures to mitigate their impacts. Within this context, our PhD thesis aims to propose new conceptual frameworks and tools so as to reconcile ecology and economy. In its first part, we analyze the strategic behaviors of firms with respect to their interactions with biodiversity and ecosystem services (BES). If the latter are often perceived as sources of legal constraints and additional costs, we underline the multiple advantages that firms may gain by assessing and managing their interdependencies with living systems. In the second part, we focus our attention on the innovations necessary to the onset of dynamics of co-viability between business and biodiversity, and, more precisely, on the development of new indicators. Two work streams are explored. Through various case studies, we first formalize an accounting framework for managing business interactions with BES, associating costs and revenues with BES data sets. We then present the underlying principles and structural components of a Biodiversity Accountability Framework which would target stakeholders, towards standardized guidelines for reporting corporate performance regarding BES. Although the widespread use of these accounting tools would require further research, we emphasize that their institutionalization would be critical to setting up and managing new modes of regulation combining economic tools for mitigating BES loss and remunerating BES supply.
Depuis quelques années, les entreprises subissent des pressions grandissantes pour mitiger leurs impacts sur la biodiversité. Notre thèse a pour objectif de leur proposer de nouveaux cadres conceptuels et outils pour réconcilier économie et écologie. Dans la première partie, nous analysons les comportements stratégiques des firmes par rapport à leurs interactions avec la biodiversité et les services écosystémiques (BSE). Si ces derniers sont souvent perçus comme sources de contraintes, notamment réglementaires, nous soulignons les multiples intérêts pour l'entreprise d'une gestion fine de son interdépendance au monde vivant. Dans la seconde partie, nous nous intéressons aux innovations nécessaires à l'émergence de dynamiques de co-viabilité entre firmes et biodiversité, et, en particulier, à la construction de nouveaux indicateurs. Deux axes de travail complémentaires sont explorés. Via plusieurs études de cas, nous formalisons tout d'abord un cadre de comptabilité analytique pour gérer les interactions de l'entreprise avec les BSE. Ensuite, nous présentons les fondements conceptuels d'une comptabilité visant à rendre compte aux parties prenantes de la performance des entreprises en matière de BSE, vers la normalisation d'un Bilan Biodiversité. Si la généralisation de ce dernier nécessiterait des travaux supplémentaires, soulignons que son institutionnalisation conduirait à produire les systèmes d'informations clefs au basculement des régulations sur les consommations de nature, vers la mobilisation d'outils économiques permettant à la fois de rendre couteuses les dégradations de BSE et de rentabiliser les pratiques qui leurs seraient favorables.
Fichier principal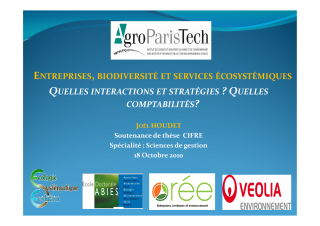 PTT_Soutenance_1809.pdf (2.29 Mo)
Télécharger le fichier
ThA_se_JHoudet_2510.pdf (15.26 Mo)
Télécharger le fichier