Spatial relations and spatial reasoning for the interpretation of Earth observation images using a structural model.
Relations spatiales et raisonnement spatial pour l'interprétation des images d'observation de la Terre utilisant un modèle structurel.
High resolution remote sensing images allow discriminating between different objects that compose a scene. However, due to the large quantities of information it is difficult to differentiate the meaningful characteristics or regions necessaries for the description of the scene. Thus, the interpretation of these image requires the introduction of new tools which allows us to distinguish the objects of interest from the rest of the image. First we study the spatial relations which can be useful for the interpretation of satellite images. We focused on the following spatial relations: surround, relations between linear objects and regions, alignment and parallelism. For each of these relations we developed formal models within the fuzzy set framework, which take into account the semantics, the perception and the context of use of these relations. These relations were evaluated on real objects, obtaining satisfaction degrees which fit well with the intuition, even in the case of complex objects. Then we propose an application of spatial relations for higher level tasks. We introduce an interpretation system which is capable of finding the instantiations of an structural model in an image. The interpretation problem is described as a flexible constraint satisfaction problem. We proposed adapted propagation algorithms for flexible constraint satisfaction problems in order to cope with complex relations and to take into account the difficulties of properly detecting the objects in the image. We tested our algorithm in scenes containing harbors and airports and the results show the interest of incorporating this methodology in a more complete image interpretation system.
L'amélioration de la résolution des images satellites optiques permet de distinguer les différents objets qui composent une scène. Néanmoins il reste difficile d'extraire les caractéristiques ou les régions qui sont pertinentes pour la description d'une scène. L'interprétation de ce type de données requiert donc l'introduction d'outils qui permettent de discriminer les objets d'intérêt du reste de l'image. Dans cette thèse nous proposons des outils de raisonnement spatial qui aident à l'interprétation des images satellites. D'abord nous nous intéressons aux relations spatiales qui peuvent être utiles pour l'interprétation des images satellites. Nous nous concentrons sur les relations spatiales suivantes : entourer, alignement, parallélisme et des relations entre lignes et régions. Pour chacune de ces relations nous introduisons des modèles formels, qui considèrent la sémantique des relations et le leur contexte d'utilisation. Ensuite nous proposons une utilisation des modèles de relations spatiales pour des tâches de haut niveau: nous introduisons un système d'interprétation qui est capable de trouver les instanciations d'un modèle structurel dans une image. Le problème d'interprétation d'une image est formulé comme un problème de satisfaction de contraintes floues. Nous proposons des algorithmes de propagation adaptés aux relations complexes telles que l'alignement, et qui prennent en compte les difficultés de détection des objets dans les images. Ce système a été testé sur des scènes contenant des ports et des aéroports et les résultats montrent l'intérêt d'incorporer cette méthodologie dans un système d'interprétation d'image plus complet.
Fichier principal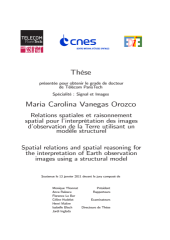 Thesis.pdf (13.74 Mo)
Télécharger le fichier
slidesThese.pdf (40.06 Mo)
Télécharger le fichier