New radical allylation reactions: exploitation of carbon-oxygen and carbon-carbon bond homolytic cleavages.
Nouvelles Réactions d'Allylation Radicalaire : Exploitation de la Rupture homolytique de Liaisons Carbone-Oxygène et Carbone-Carbone
This PhD thesis is divided in eight chapters. The first three bibliographic chapters present the general principles of radical chemistry, the possibility offered by the xanthate radical chemistry and a review of the radical allylation methods, main focus of this work. The three next chapters are dedicated to the exploitation of the radical allylation of allylic alcohols, recently discovered in our laboratory. The use of such a technology enabled the preparation of functionalized enol ethers, ketones and 1,4-diketones, vinylsulfides, and finally fluoro- and trifluoromethyl-alkenes. The obtained 1,4-diketones and vinylsulfides have in particular been utilized to prepare functionalized carbo- and hetero-cycles. A remarkable manifestation of polar effects in the radical fragmentation process has then been discovered in the course of our study towards the synthesis of trifluoromethyl-alkenes. This effect has allowed for the development of a new ketone and 1,5-diketone synthesis featuring a rare carbon-carbon bond homolytic cleavage. Our results are presented in a 7th chapter. Last but not least, a new synthetic route to alpha-keto vinyl carbinols, a class of compound with high synthetic potential, has been devised. This method exploits the Mislow-Braverman-Evans sigmatropic rearrangement of allylic sulfoxides. Our synthesis uses simple ketones as starting material and represents the most straightforward synthetic path to alpha-keto vinyl carbinols reported to date.
Cette thèse est divisée en huit chapitres. Les trois premiers chapitres bibliographiques constituent respectivement un rappel des grands principes de la chimie radicalaire, une présentation des possibilités offertes par la chimie radicalaire des xanthates et une revue des méthodes d'allylation radicalaire, principale thématique de nos travaux. Les trois chapitres suivants sont consacrés à des applications d'une méthode d'allylation radicalaire de simples alcools allyliques, récemment découverte au laboratoire. Ces applications nous ont permis de définir des nouvelles voies de synthèse d'éthers d'énols régio-définis, de cétones et dicétones-1,4, de sulfures vinyliques, et enfin d'oléfines fluorées et trifluorométhylées. Les dicétones-1,4 et les sulfures vinyliques obtenus ont en particulier été mis à profit pour la préparation de carbo- et d'hétérocycles fonctionnalisés. Un effet de polarité remarquable a par la suite été découvert pour le processus de fragmentation radicalaire lors de la synthèse d'alcènes trifluorométhylés. Ce dernier a permis le développement d'une nouvelle méthode de synthèse de cétones et de dicétones-1,5 dans laquelle la nouvelle cétone formée provient de la rupture homolytique inusuelle d'une liaison carbone-carbone. Les résultats obtenus sont présenté dans un septième chapitre. Enfin, une nouvelle voie d'accès au alpha-céto carbinols vinyliques, composés à fort potentiel synthétique, est décrite dans un huitième chapitre. Cette méthode exploite le réarrangement sigmatropique de Mislow-Braverman-Evans de sulfoxydes allyliques. Elle constitue l'approche la plus directe au alpha-céto carbinols vinyliques et présente l'avantage de partir de simples cétones.
Fichier principal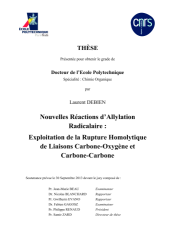 ThA_se-LD.pdf (24 Mo)
Télécharger le fichier
Poster-fragmentation_C-C.pdf (629.24 Ko)
Télécharger le fichier
Poster-fragmentation_C-O.pdf (611.09 Ko)
Télécharger le fichier