DYNAMIQUE DES ATOMES DANS UN RESEAU OPTIQUE DISSIPATIF : MODES DE PROPAGATION, RESONANCE STOCHASTIQUE, DIFFUSION DIRIGEE
The work presented in this thesis is devoted to the experimental study of the atomic dynamics in a dissipative optical lattice. We used pump-probe spectroscopy and atomic imagery techniques. We obtained information about the temperature of the atoms, their dynamics when they are trapped in the potential wells and the transport phenomena.

We report the direct observation of Brillouin propagation modes by imagery and we relate them to the optical resonances observed in pump-probe spectra. We demonstrate the existence of dark modes, for which a propagation mode is excited which cannot be detected by spectroscopy.

We use optical lattices as a model system for statistical physics. We demonstrate the occurrence of stochastic resonance for the excitation of the Brillouin propagation mode.

In the last part of the thesis, we report the observation of directed diffusion in a symmetric periodic potentiel. This is due to a temporal symmetry breaking of the system.
Le travail présenté dans cette thèse a pour objet l'étude expérimentale de la dynamique atomique dans un réseau optique dissipatif. Nous avons utilisé les techniques de spectroscopie pompe-sonde et d'imagerie du nuage atomique. Nous avons pu obtenir avec ces méthodes des informations sur la température, sur le mouvement des atomes piégés dans les puits de potentiel optique et sur les processus de transport.

Nous reportons l'observation directe des modes de propagation Brillouin par imagerie et nous étudions le lien avec la résonance optique que l'on observe dans les spectres pompe-sonde. Nous montrons l'existence de modes noirs, pour lesquels un mode de propagation est excité sans qu'il soit détectable par spectroscopie.

Nous utilisons les réseaux optiques comme système modèle pour la physique statistique. Nous montrons l'existence d'une résonance stochastique pour l'excitation du mode de propagation Brillouin.

Enfin, nous reportons l'observation d'une diffusion dirigée d'atomes dans un potentiel périodique symétrique, obtenue grâce à la brisure de la symétrie temporelle du système.
Fichier principal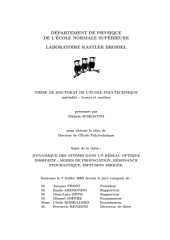 tel-00003129.pdf (4 Mo)
Télécharger le fichier
tel-00003129.ppt (3.5 Mo)
Télécharger le fichier