ETUDE THEORIQUE DE LA DYNAMIQUE NON LINEAIRE D'ATOMES FROIDS DANS UN RESEAU OPTIQUE DISSIPATIF : TRANSPORT SPONTANE ET TRANSPORT STIMULE
We theoretically study the nonlinear dynamics of atoms cooled and trapped in a dissipative optical lattice and particularly noise-induced, spontaneous and stimulated transport phenomena.

We separate two differently behaving classes of atoms, respectively trapped and un-trapped in the potential wells. This separation allows for the precise understanding of the behavior of the velocity distributions and of the properties of spontaneous transport (spatial diffusion) for parameters ranging from the jumping to the oscillating regimes.

We study stimulated transport phenomena in the intermediate regime between the jumping and oscillating regimes where the typical times for hamiltonian motion and dissipative processes have the same order of magnitude. We characterize the Brillouin propagation modes and the corresponding excitation mecanisms. We demonstrate that these show the phenomenon of stochastic resonance that corresponds to the synchronization of hamiltonian motion and dissipative processes. We finally study an atomic temporal ratchet originating from a temporal symmetry breaking-induced directed motion.
Nous étudions théoriquement la dynamique non linéaire d'atomes refroidis et piégés dans un réseau optique dissipatif et plus particulièrement les phénomènes de transport spontané et stimulé induits par le bruit.

Nous distinguons deux classes d'atomes, respectivement piégés et non-piégés dans les puits de potentiel, aux comportements très différents. Cette distinction permet de comprendre précisément le comportement des distributions de vitesse ainsi que les propriétés du transport spontané (diffusion spatiale) dans un domaine de paramètres allant du régime sautant au régime oscillant.

Des phénomènes de transport stimulés sont étudiés dans le régime intermédiaire entre les régimes sautant et oscillant où les temps typiques du mouvement hamiltonien et des phénomènes dissipatifs sont comparables. Nous caractérisons les modes de propagation Brillouin ainsi que leurs mécanismes d'excitation. Nous montrons que ceux-ci donnent lieu au phénomène de résonance stochastique qui correspond à la synchronisation du mouvement hamiltonien et des processus dissipatifs. Nous étudions enfin un rochet atomique temporel correspondant à un mouvement dirigé induit par la brisure de la symétrie temporelle.
Fichier principal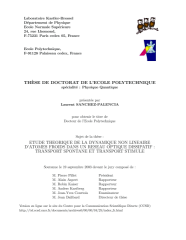 tel-00003587.pdf (5.03 Mo)
Télécharger le fichier
tel-00003425.pdf (1.92 Mo)
Télécharger le fichier