Propagation of an ultra intense laser pulse in an under dense plasma : production of quasi monoenergetic electron beams and development of applications.
Propagation d'une impulsion laser ultra-intense dans un plasma sous-dense : Génération de faisceaux d'électrons quasi-monoénergétiques et développement d'applications.
This experimental study concerns the generation of electron beams with original properties. These electrons beams originate from the interaction of an ultra-intense and short laser pulse with a gas jet. Previously, these electron beams had a large divergence and a broad spectrum. A major improvement in this field was achieved when an electron beam with low divergence (10 mrad) and a peaked spectrum (170 MeV) was observed during this thesis, using a new single shot electron spectrometer. A parametric study of the interaction allowed to observe the evolution of the electron beam.
Experiments have been carried out to deepen the characterization of the electron beam. The observation of transition radiation generated by the electrons at an interface shows that the electron beam interacts with the laser pulse during the acceleration. Radial oscillations of the electron beam around the laser axis, named betatron oscillations, were also observed on the electron spectra.
Such a quasi-monoenergetic spectrum is essential for many applications. In order to justify the interest of this electron beam, several applications are presented : a submillimetric gamma-ray radiography of dense objects, a dose profile of the electron beam comparable to present capabilities of photon sources for radiotherapy, a very short temporal profile useful for water radiolysis and the generation of a bright X-ray source with low divergence.
Cette étude expérimentale concerne la généation de faisceaux d'électrons aux propriétés inédites. Ces faisceaux d'électrons sont issus de l'interaction d'une impulsion laser ultra-intense et brêve avec un jet de gaz. Jusqu'à récemment, les faisceaux d'électrons ainsi produits avaient une divergence importante et un spectre très large. Un tournant important de cette discipline a été franchi lorsqu'un faisceau d'électrons faiblement divergent (10 mrad) et, par dessus tout, dont le spectre est piqué à haute énergie (170 MeV) a été observé durant cette thèse, en utilisant un nouveau spectromètre monotir à électrons. Une étude paramétrique de l'interaction a permis de suivre l'évolution des propriétés du faisceau d'électrons.
Des expériences ont ensuite été menées pour approfondir la caractérisation de ce faisceau. L'observation du spectre de rayonnement de transition généré par les électrons à une interface montre que le faisceau d'électrons interagit avec l'impulsion laser pendant l'accélération. Des oscillations radiales du faisceau d'électrons autour de l'axe laser, qualifiées d'oscillations bétatroniques, ont aussi été visualisées sur les spectres électroniques.
Un tel spectre quasi-monoénergétique est essentiel pour de nombreuses applications. Afin de justifier l'intérêt d'un tel faisceau, plusieurs expériences d'applications sont présentées : la radiographie gamma submillimétrique d'objets denses, un profil de dose du faisceau d'électron comparable aux performances actuelles des sources de photons pour la radiothérapie, un profil temporel très bref utile en radiolyse de l'eau et la génération d'une source de rayons X faiblement divergente.
Fichier principal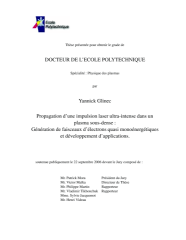 These_YannickGlinec_final_francais.pdf (3.23 Mo)
Télécharger le fichier
Thesis_YannickGlinec_v100_english.pdf (3.23 Mo)
Télécharger le fichier