Approche probabiliste du comportement élasto-plastique de structures marines, sous sollicitations aléatoires de houle
This work studies the reliability analysis of a Jacket-type offshore structure, under the action of wave forces. The mechanical model includes various elasto-plastic diagrams with and without the combination of the normal force and the bending moment. A diminution of the normal force is introduced in order to account for buckling. A linearisation is introduced for easier application. The dynamic wave forces on the structure are assumed to have zero mean, Gaussian characteristics (a gaussian stationnary and ergodic random process with zero mean value) when suitably linearized. The safety index is computed, for each failure limit state of the system, by the branch and bound method, with the help of equivalent hyperplanes in a first order approximation; an hybrid method is also developed, which requires a Monte-Carlo simulation. Two examples of a portal frame structure and a jacket-type offshore structure illustrate this approach and show the effect of considering the interaction between the normal force and the bending moment (in comparison with the axial force effect only or bending moment effect only) in the reliability level of a system. Finally, the methodology proposed in this work, to estimate the reliability of offshore structures subjected to wave actions, allows to study the variation of probability of mechanical system failure, according to the design criteria. It allows too to establish the criterias of the desirable safety level, and could be useful for a larger class of problems.
Ce travail porte sur l'analyse de la fiabilité de structures marines de type Jacket, de comportement élastique-parfaitement plastique, vis-à-vis de chargement de houle linéaire stochastique. Les fonctions d'état de sécurité ou de ruine du système mécanique, calculées à l'aide d'une méthode d'analyse de contraintes pas-à-pas, prennent en compte les efforts combinés de flexion et de traction-compression par le flambement (écoulement bi-dimensionnel), dans les éléments de la structure. Les incertitudes des résistances des éléments de la structure sont prises en compte par des lois normales ou log-normales, définies à partir de données statistiques, rapportées par le comité LRFD (sur des facteurs de résistance et de chargement), de la Société Américaine de Génie civil. L'incertitude du chargement de houle est prise en compte par un modèle de houle linéaire stochastique, gaussien stationnaire ergodique. L'approche de la probabilité de ruine globale du système mécanique se fait par deux méthodes: la méthode dite de Premier Ordre, basée sur l'approximation des hyperplans équivalents des intersections ou des unions des régions de ruine du système, et la méthode dite hybride, basée sur la simulation Monte-Carlo. Enfin, deux exemples d'application d'un portique et d'une structure marine installée en eau moyennement profonde, mettent en évidence les avantages de l'utilisation du modèle d'efforts combinés de flexion et de traction-compression, y compris le flambement, proposé dans ce travail. Les modèles proposés dans ce travail, d'application aux structures marines, mais de portée beaucoup plus grande, permettent d'étudier la variation de la probabilité de ruine globale d'un système mécanique, en fonction des critères adoptés dans sa conception. Ils permettent également d'établir des critères pour définir les niveaux de sécurité désirables.
Fichier principal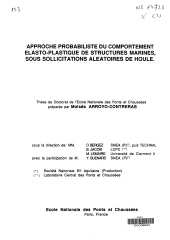 1989TH_ARROYO-CONTRERAS_M_NS14723.pdf (7.23 Mo)
Télécharger le fichier
Origin : Files produced by the author(s)