Etude numérique d'écoulements réactifs transsoniques
The work presented in this thesis deals with numerical studies of transonic reactive flows. The mathematical modelling used to solve these flows is built on the multi-species Euler equations written for mixed perfect gases where terms modelling diffusion and combustion effects are taken into account. In order to numerically solve the system of equations, we use a mixed finite volume/finite element formulation based upon MUSCL methodology with upwind numerical fluxes. The boundary conditions are treated by means of fluxes, adapted to multi-species flows, and solving boundaries where the flow is either subsonic or supersonic. With the help of this scheme, several one-dimensional problems of stable and unstable detonation are studied, as well as two-dimensional problems of reactive interaction of jets and diffusion flames. The difficulty of the test cases, with pressure ratios sometimes larger than 30, proves the robustness of the method. Moreover, the use of a MUSCL method, associated with fine meshes obtained by either static or dynamic refinements, leads to precise numerical solutions with no oscillation. In order to get rid of the difficulties linked with the time scales disparities that appear in those flows, we propose various explicit and implicit schemes using operator decompositions which increases by a factor of 5 the efficiency (whilst keeping a good quality unsteady solution) in comparison with the explicit scheme.
Le travail présenté dans cette thèse porte sur l'étude numérique d'écoulements réactifs en régime transsonique. Le modèle mathématique pour résoudre ces écoulements est constitué des équations d'Euler multi-espèces écrites pour un mélange de gaz parfaits auxquelles nous ajoutons les termes modélisant les effets diffusifs et les effets dus à la combustion. Pour résoudre numériquement le système d'équations ainsi défini, nous utilisons une formulation mixte éléments finis - volumes finis basée sur la méthodologie MUSCL et utilisant des fonctions de flux numériques décentrés. Pour le traitement des conditions aux limites, on utilise des flux numériques adaptés aux écoulements multi-espèces qui traitent les frontières où l'écoulement est subsonique ou supersonique. A l'aide de ce schéma on étudie différents problèmes monodimensionnels de détonation stable et instable ainsi que des problèmes bidimensionnels d'interaction réactive de jets et de flammes de diffusion. La difficulté des cas tests étudiés avec des rapports de pression parfois supérieurs à 30 prouve la robustesse de la méthode. De plus l'utilisation de la méthode MUSCL associée à des maillages fins obtenus par raffinement statique ou dynamique conduit à des solutions numériques précises et sans oscillations. Pour s'affranchir des difficultés liées à la disparité des échelles temporelles qui apparaissent dans ces écoulements, on propose différents schémas explicites et implicites par décomposition des opérateurs qui permettent (tout en conservant une solution instationnaire de bonne qualité) des gains supérieurs à 5 par rapport à l'explicite.
Fichier principal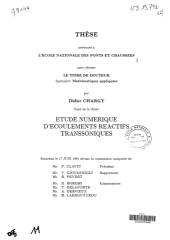 1991TH_CHARGY_D_NS15792.pdf (17.03 Mo)
Télécharger le fichier
Origin : Files produced by the author(s)