Equilibrium and Nonequilibrium Behaviours of 1D Bose Gases
Comportements à l'équilibre et hors d'équilibre de gaz de Bose unidimensionnels.
One-dimensional quantum many-body systems exhibit peculiar and intriguing behaviors as a consequence of the reduced dimensionality, which enhances the effect of fluctuations and correlations. The high degree of isolation and controllability of experiments manipulating ultra-cold atomic gases allows for the experimental simulation of text-book models, for which many theory tools are available for quantitative comparison. I will present instances of such efforts carried out during my PhD thesis, namely, the studies performed to investigate the behavior of 1D Bose gas (Lieb-Liniger gas) at equilibrium and beyond. An overview of the toolbox available to date to characterize the equilibrium thermodynamics of a Lieb-Liniger gas will be shown, followed by a detailed study of the breathing mode of such a system.
Les systèmes quantiques unidimensionnels à N corps présentent des comportements particuliers et intrigants liés à leur dimensionnalité réduite, qui amplifie l'effet des fluctuations et des corrélations. Les expériences de gaz d'atomes ultra-froids permettent d'isoler et de contrôler efficacement les paramètres du système et de simuler des systèmes modèles pour lesquels il existe de nombreux outils théoriques. Je présenterai ici les résultats des études réalisées pendant ma thèse de Doctorat, visant à explorer le comportement de gaz de Bose unidimensionnels (gaz de Lieb-Liniger) à l'équilibre et hors équilibre. Je donnerai notamment un aperçu de la boite à outils aujourd'hui disponible permettant de caractériser les propriétés thermodynamiques d'un gaz de Lieb-Liniger, et présenterai une étude détaillée du mode de respiration d'un tel système.
Fichier principal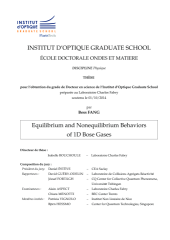 2014IOTA0005.pdf (9.06 Mo)
Télécharger le fichier
Origin : Version validated by the jury (STAR)