Instrumentation, Identification and Control of laser direct metal deposition for additive manufacturing
Etude du contrôle de procédé de projection laser pour la fabrication additive : Instrumentation, Identification et Commande.
Applications using the direct metal deposition laser process have been expanded rapidly, particularly in aeronautics. However, this promising technology reported some difficult points and faced several problems, mainly the process instability. When these phenomena are not controlled, several defects was obtained (lack of mechanical strength, excessive porosity, poor surface, ... etc.). According to their distribution and size, non-conformity, deteriorate the mechanical characteristics of the parts was recorded and result in a significant cost of post-processing. Therefore, it is important to control the process, to make the process both robust and preserve the structural integrity of the piece. This requires the development of instrumentation through the control process, in order to have a real-time system able to adjust the process parameters to keep a high quality of the manufactured part. In this perspective, the studied thesis developed a technological solution (hardware and algorithms) based on cameras (vision) to monitor key parameters during manufacture. The application of this vision system has been allowed for the implementation of innovative methods by using modern automatic tools to monitor the status of the built part or even correct their defects during the manufacture parts, having a monitoring and process control in real time. Furthermore this vision system performed measurements for the inputs and outputs of the process, matched to a dynamic model that lead to the realization of the process control system.
Les applications utilisant les procédés de fabrication directe par laser et projection de poudre sont en pleine expansion, en particulier, dans l'aéronautique. Néanmoins, cette technologie prometteuse fait état de quelques points durs et est confrontée aux problèmes d'instabilités du procédé. Lorsque ces phénomènes ne sont pas maîtrisés, cela conduit à des défauts (résistances mécaniques insuffisantes, porosités trop importantes, mauvais états de surface,….etc), qui, selon leur répartition et leur taille, risquent d'engendrer des non conformités, de détériorer les caractéristiques mécaniques des pièces et qui peuvent représenter un coût de post-traitement non négligeable. Par conséquent, il est primordial de maîtriser le procédé d'élaboration, afin de rendre le procédé de fabrication robuste et préserver l'intégrité structurelle de la pièce. Cela requiert la mise en place de système d'instrumentation du procède de projection laser, et par l'intermédiaire du contrôle procédé, d'avoir un système de commande temps réel permettant d'adapter les paramètres procédés en cours d'élaboration, afin de de maintenir une haute qualité de la pièce fabriquée. Dans cette perspective, nous avons développé une solution technologique (matérielle et algorithmique) à base de caméras (vision) permettant de suivre des paramètres clefs lors de la fabrication. L'application de ce système de vision a permis la mise en œuvre de méthodes innovantes, utilisant des outils de l'automatique moderne, pour surveiller l'état de pièces projetées, voire même corriger leurs défauts lors de la fabrication, en ayant un suivi et un contrôle du procédé en temps réel. De plus ce système de vision a permis à partir de mesures effectuées sur les entrées et les sorties du procédé, d'identifié un modèle dynamique qui ont conduit à la réalisation du système de contrôle procédé.
Fichier principal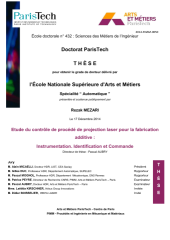 MEZARI.pdf (6.81 Mo)
Télécharger le fichier
Origin : Version validated by the jury (STAR)