Modeling the mechanical damage of composite materials under the effect of moisture : Hydrolysis and damage coupling
Etude et modélisation de l'endommagement mécanique des matériaux composites sous l'effet de l'humidité : Couplage hydrolyse et endommagement.
The present study deals with the wet durability and fatigue damage of organic matrix composite (OMC) materials. The diffusion of water in a SMC material (polyester matrix reinforced with glass fibers and particles of chalks) is first analyzed experimentally. Then it is modeled numerically under different conditions of hygrothermal aging in immersion. The physical mechanisms causing the hygrothermal damage are then identified. Decreases of different mechanical properties as a function of time and of the absorbed water content are highlighted with the identified damage phenomena. The effect of hygrothermal damage on fatigue life is then studied experimentally. A predictive model that takes into account the effects of waterborne and mechanical damage is then proposed. A coupled diffusion / mechanical calculation makes it possible to determine the overall behavior of the material. It is shown that it is possible to simulate and to follow continuously the evolution of the fatigue life of the aged material whatever the time and temperature.
La présente étude traite la durabilité en milieu humide et l'endommagement par fatigue des matériaux composites à matrice organique (CMO). La diffusion d'eau dans un matériau SMC (matrice polyester renforcée par des fibres de verre et des particules de craies) est tout d'abord analysée expérimentalement. Puis elle est modélisée numériquement sous différentes conditions de vieillissement hygrothermique en immersion. Les mécanismes physiques à l'origine de l'endommagement hygrothermique sont alors identifiés. Des baisses de différentes propriétés mécaniques en fonction du temps et de la teneur en eau absorbée sont mises en évidence avec les phénomènes d'endommagement identifiés. L'effet de l'endommagement hygrothermique sur la durée de vie en fatigue est alors étudié expérimentalement. Un modèle prédictif qui prend en compte les effets d'endommagements d'origine hydrique et mécanique est alors proposé. Un calcul couplé diffusion/mécanique permet de déterminer le comportement global du matériau. On montre qu'il est possible de simuler et de suivre en continu l'évolution de la durée de vie en fatigue du matériau vieilli quel que soit le temps et la température.
Fichier principal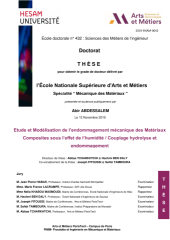 abdessalem.pdf (12.16 Mo)
Télécharger le fichier
Origin : Version validated by the jury (STAR)