Nuclear Magnetic Resonance (NMR) study of the physico-chemical modifications caused by heat treatments ("roasting") of coffee beans from Coffea arabica L.
Étude par spectroscopie de résonance magnétique nucléaire (RMN) des modifications physico-chimiques provoquées par des traitements thermiques (« torréfactions ») de graines du caféier Coffea arabica L.
The heat treatment ("roasting") of Coffea arabica L. seeds determines their chemical composition and, as a result, the composition and organoleptic properties of the resulting beverage ("coffee"). In this study, we used several quantitative nuclear magnetic resonance (q NMR) spectroscopy techniques to explore the phenomena that occur during roasting and extraction of coffee beans in the aqueous phase. Experimental designs were implemented to examine the influence of key roasting parameters and, ultimately, to identify the mechanisms of the phenomena that these treatments cause. Unlike previous studies, we applied roasting kinetics that are in line with industry standards. We determined that the parameters used by the industry were not sufficient to characterize the various roasts. Then we used chemometrics in order to identify markers, i.e. compounds whose concentrations vary with the kinetics involved. More extensive heat treatments were also carried out to (1) establish correlations between these compounds and changes in colour and pH and (2) identify the reaction mechanisms that occur during roasting.
Le traitement thermique (« torréfaction ») des graines de Coffea arabica L. détermine leur composition chimique et, de ce fait, la composition et les propriétés organoleptiques de la boisson qui en est issue (« café »). Dans cette étude, nous avons utilisé plusieurs techniques de spectroscopie de résonance magnétique nucléaire quantitative (q RMN) pour explorer les phénomènes qui ont lieu au cours de la torréfaction et de l'extraction en phase aqueuse des grains de café broyés. Des plans d'expériences ont été mis en œuvre, afin d'examiner l'influence de paramètres clés des torréfactions et, in fine, d'identifier les mécanismes des phénomènes que ces traitements provoquent. Contrairement aux études antérieures, nous avons appliqué des barèmes de torréfaction représentatifs des pratiques industrielles. Nous avons établi que les paramètres de commande et de contrôle utilisés par l'industrie ne suffisaient pas à caractériser les diverses torréfactions. Puis, par des analyses chimiométriques, nous avons identifié les composés dont les concentrations varient avec les cinétiques considérées. Des traitements thermiques plus poussés ont aussi été effectués afin (1) d'établir des corrélations entre ces composés et des changements de couleur et de pH et (2) d'identifier les mécanismes réactionnels qui interviennent au cours des torréfactions.
Fichier principal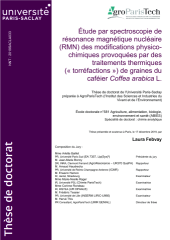 85384_FEBVAY_2019_archivage.pdf (206.26 Mo)
Télécharger le fichier
Origin : Version validated by the jury (STAR)