Vitrification of wastes rich in Mo, P and Zr coming from the dismantling of shutdown nulcear facilities. Structural and microstructural study of their incorporation in an aluminoborosilicate glass.
Vitrification de déchets nucléaires de démantèlement riches en Mo, P et Zr. Etude structurale et microstructurale de leur incorporation dans un verre aluminoborosilicaté.
This work belongs to the DEM'N'MELT project, which is dedicated to the vitrification of intermediate or high level radioactive wastes coming from the dismantling of nuclear facilities. The waste compositions of this study, rich in P2O5, MoO3 et ZrO2 which activity is mainly due to 137Cs are close to the ones of the shutdown UP1 facility (Marcoule). Their main feature is the variability of their composition. This work objective is to study the incorporation of these wastes in an aluminoborosilicate glass rich in alkali oxides at 1100 °C.The first part of the study will be dedicated to a system close to the industrial one (11 oxides). It highlights that MoO3 and P2O5 are the main waste constituents responsible for phase separation or crystallization. Moreover, molybdate crystalline phases can contain Cs. ZrO2 is incorporated in the glassy matrix without leading to heterogeneities.Then, a simplified system (6-7 oxides) is studied along with the structural and microstructural incorporation mecanisms of P2O5 and MoO3. These oxides are first considered alone and then added simultaneously. This second study highlights that P et Mo mainly lead to the formation of entities isolated from the glassy network and that their simultaneous addition increases the crystallization tendency.
Ce travail de thèse s'inscrit dans le projet DEM'N'MELT dont le but est de vitrifier des déchets de moyenne ou haute activité issus du démantèlement d'installations nucléaires. Les compositions de déchet considérées dans ce manuscrit, riches en P2O5, MoO3 et ZrO2 et dont l'activité résulte essentiellement du 137Cs, sont basées sur celles des déchets générés par le démantèlement de l'usine UP1 de Marcoule. Leur principale caractéristique est leur variabilité de composition. L'objectif est d'étudier l'incorporation de ces déchets dans un verre aluminoborosilicaté riche en alcalins à 1100 °C.Le premier axe d'étude consiste à se placer dans un système proche du système industriel (11 oxydes). Il a mis en évidence que MoO3 et P2O5 sont les deux principaux constituants du déchet conduisant à des séparations de phases et/ou des cristallisations. Celles-ci peuvent, dans le cas des phases molybdates, contenir du Cs. Aux teneurs envisagées, ZrO2 s'incorpore quant à lui dans la matrice sans générer d'hétérogénéités.Le deuxième axe se concentre sur l'étude structurale et microstructurale des mécanismes d'incorporation de P2O5 et MoO3 dans un système simplifié (6-7 oxydes). Ces éléments sont tout d'abord considérés seuls puis incorporés conjointement. Il apparaît que P et Mo s'insèrent majoritairement sous forme d'entités isolées (PO43- et MoO42-) du réseau vitreux et que leur incorporation conjointe augmente la tendance à la cristallisation du système.
Fichier principal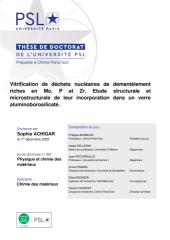 2020UPSLC019_archivage.pdf (14.01 Mo)
Télécharger le fichier
Origin : Version validated by the jury (STAR)