Reduced-order modeling in a local-global integration, application to spot weld for crash tests simulations
Réduction de modèle dans une intégration locale-globale, application aux points de soudure pour la simulation des crash-tests.
Performing a crash test simulation quickly and accurately remains a challenge for car manufacturers despite the generalization of high-performance computing and the progress in numerical methods. Indeed, engineers introduce mesoscale models of small components in the car model to obtain excellent prediction accuracy, but the integration of these local models increases computational time. Model order reduction methods that exploit the generally low dimensionality of the loading space of a physical phenomenon and the correlations in the loading are interesting to improve the accuracy of a crash test model at a low computational cost. In this thesis, we address the reduction of mesoscale spot weld models in ESI Group's high-fidelity crash test model to decrease the computational time of a simulation. Professor Chinesta and Dr. Daim supervised this work conducted inside the consortium dedicated to model order reduction for industrial problems, comprising Gestamp, Renault, ESI Group, and Arts et Métiers.We propose (i) a new data-driven reduction technique called incremental Dynamic Mode Decomposition (iDMD) and (ii) an integration scheme, the local-global approach, to introduce this reduced model into a finite element model. We applied these techniques to reduce a mesoscale model of a spot weld. The use case represents an assembly of two metal sheets subject to tensile and shear stresses until failure. In less than 10 minutes, we performed a simulation comparable to the reference simulation performed in 1h30, with the same computing power. The accuracy of the reduced model is excellent as long as the damage is not advanced. During the rupture, the prediction error remains low even with a reduced training compared to the problem's dimensionality. Additionally, we integrated the spot weld reduced model into a global model representing two sheets using the local-global approach. We obtained results comparable to a high-fidelity simulation integrating a spot weld mesoscale model. Thus, the iDMD and the local-global approach associated with a crash-test model would integrate the spot welds' local behaviors without explicitly describing them. Following these encouraging results, we started a more extensive study with Renault on national supercomputers (Jean Zay). These supercomputers allow us to explore the parametric loading space encountered during a crash test to integrate our approach in the dedicated ESI Group software.This thesis is divided into four chapters. In the first chapter, we introduce the crash test simulation and present our state of the art on model order reduction. In the second chapter, we present the iDMD and the local-global approach. In the third chapter, we present the use case on spot welds. Finally, the last chapter is the conclusion of our approach.
Réaliser rapidement et précisément une simulation de crash-test reste un défi pour les constructeurs automobiles malgré la généralisation du calcul haute-performance et les progrès des méthodes numériques. En effet, des modèles à méso-échelle de petits composants sont intégrés dans le modèle global de la voiture pour obtenir une excellente précision sur l'ensemble mais l'introduction de ces modèles locaux augmente fortement le temps d'exécution du calcul. Les méthodes de réduction de modèle qui exploitent la dimension généralement faible de l'ensemble des sollicitations d'un phénomène physique et les corrélations entre celles-ci sont intéressantes pour améliorer la précision d'un modèle de crash-test à moindre coût. Cette thèse traite de la réduction des modèles méso-échelle des points de soudure dans le modèle de crash-test haute-fidélité d'ESI Group afin de diminuer le temps de calcul d'une simulation. Ce travail est supervisé par le professeur Chinesta et le docteur Daim dans le cadre du consortium dédié à la réduction de modèle pour des problèmes industriels comprenant Gestamp, Renault, ESI Group et les Arts et Métiers.Nous proposons (i) une nouvelle technique de réduction à partir de données appelée incremental Dynamic Mode Decomposition (iDMD) et (ii) un schéma d'intégration, l'approche locale-globale, introduisant ce modèle réduit dans un modèle éléments finis. Nous avons utilisé ces méthodes pour réduire un modèle méso-échelle de point de soudure. Le cas d'application représente un assemblage de deux tôles soumises à des sollicitations mécaniques de traction et de cisaillement jusqu'à rupture. Nous avons réalisé en moins de 10 minutes une simulation comparable à la simulation de référence réalisée en 1h30, à puissance de calcul égale. La précision du modèle réduit est excellente tant que le dommage n'est pas avancé. Lors de la rupture, l'erreur de prédiction reste faible même avec un entrainement modeste comparé à la dimensionnalité du problème. Par ailleurs, nous avons réalisé l'intégration du modèle réduit d'un point de soudure dans un modèle global représentant deux tôles suivant l'approche locale-globale et obtenu des résultats comparables à une simulation haute-fidélité intégrant un modèle méso-échelle de point de soudure. Ainsi, l'iDMD et l'approche locale-globale associées dans un modèle de crash-test permettraient d'intégrer les comportements locaux des points de soudure sans les décrire explicitement. À la suite de ces résultats encourageants, nous avons débuté une étude plus approfondie avec Renault sur des supercalculateurs nationaux (Jean Zay). Ceux-ci permettent d'explorer l'espace paramétrique des chargements rencontrés lors d'un crash-test afin d'intégrer notre approche dans le logiciel dédié d'ESI Group.Cette thèse se décompose en quatre chapitres. Le premier chapitre introduit la simulation de crash-test et présente notre état de l'art sur la réduction de modèle. Le deuxième chapitre présente l'iDMD et l'approche locale-globale. Le troisième chapitre expose le cas d'usage sur un point de soudure. Finalement, le quatrième chapitre présente les conclusions sur notre approche.
Fichier principal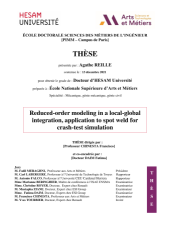 106123_REILLE_2021_archivage.pdf (12.14 Mo)
Télécharger le fichier
Origin : Version validated by the jury (STAR)