Modelling, formalisation, and implementing a methodology for large-scale transformation of the maintenance function to make it more efficient. Case study of a significant sanitation and wastewater treatment utility.
Modélisation, formalisation et mise en place d'une méthodologie de transformation à grande échelle de la fonction maintenance pour la rendre plus performante. Cas d'application à un grand service public d'assainissement et de traitement des eaux usées.
Today, maintenance occupies a strategic position within industrial companies and represents a significant economic challenge. The potential contribution of Industry 4.0 technologies reinforces the desire of manufacturers to optimise maintenance. However, scientific research on maintenance optimisation models is having trouble proposing solutions adapted to industrial constraints to respond to the growing need to improve maintenance. In this context, our doctoral thesis raises the question of changing maintenance practices to improve performance. More specifically, the appropriation by maintenance teams of maintenance optimisation models and the new technological contributions of Industry 4.0 remains complex, and few companies have succeeded in doing so. We underline the complexity of maintenance with its technical, economic and human dimensions through a set of field studies and state-of-the-art. This allows us to propose a resolution hypothesis that consists of formalising a global managerial model of the maintenance function. To test our hypothesis, we propose a methodology for the evolution of the maintenance function. It comprises three main phases: a contextual analysis phase, then optimisation and finally implementation and continuous improvement. Behind these three phases, we define several bricks to which we associate different maintenance optimisation techniques. These bricks are oriented according to two axes of optimisation: the effectiveness of maintenance and maintenance efficiency. This methodology has been applied to the SIAAP, a public sanitation service with more than 1,700 employees, and has allowed improving the performance of its maintenance function.
Aujourd'hui, la maintenance occupe une place stratégique au sein des entreprises industrielles et représente un enjeu économique important. L'apport potentiel des technologies de l'industrie 4.0 renforce, pour les industriels, la volonté d'optimiser la maintenance. Pour autant, la recherche scientifique sur les modèles d'optimisation de la maintenance éprouve des difficultés à proposer des solutions adaptées aux contraintes industrielles pour répondre aux besoins croissants d'amélioration de la fonction maintenance. Dans ce contexte, notre thèse de doctorat soulève la question du changement des pratiques de maintenance pour améliorer sa performance. Plus spécifiquement, l'appropriation par les équipes de maintenance des modèles d'optimisation de la maintenance et des nouveaux apports technologiques de l'industrie 4.0 reste complexe, et peu d'entreprises y parviennent. A travers un ensemble d'études de terrain et de l'état de l'art, nous soulignons toute la complexité de la maintenance avec notamment ses dimensions techniques, économiques et humaines. Cela nous permet de proposer une hypothèse de résolution qui consiste à formaliser un modèle managérial global de la fonction maintenance. Afin de tester notre hypothèse, nous proposons une méthodologie d'évolution de la fonction maintenance. Elle se compose en trois grandes phases ; une phase d'analyse contextuelle de l'entreprise, puis d'optimisation et enfin de mise en œuvre et d'amélioration continue. Derrières ces trois phases nous définissons plusieurs briques auxquelles nous associons différentes techniques d'optimisation de la maintenance. Ces briques sont orientées selon deux axes d'optimisation : l'efficacité de la maintenance, et l'efficience de la maintenance. Cette méthodologie a été appliquée au SIAAP, un service public d'assainissement de plus de 1 700 employés, et a permis d'améliorer la performance de sa fonction maintenance.
Fichier principal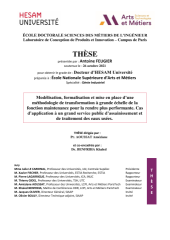 ENSAM_FEUGIER_2021_archivage.pdf (7.92 Mo)
Télécharger le fichier
Origin : Version validated by the jury (STAR)