Study of trm112, a unique methyltransferase activator at the interface between ribosome synthesis and function
Etude de trm112, un activateur unique de methyltransferases a l'interface entre la synthese du ribosome et sa fonction.
Methylation is a widely distributed modification found in a variety of substrates involved in different steps of eukaryotic protein translation. Methylation reactions are catalyzed by enzymes called methyltransferases (MTases) generally using S-adenosyl-L- methionine (SAM or AdoMet) as the methyl donor. The effects of methylation on translation are perfectly illustrated by the Trm112 protein, which is an activating platform, essential for the function of four SAM-dependent MTases (Trm9, Trm11, Bud23 and Mtq2) modifying factors participated in protein synthesis. The Trm9-Trm112 and Trm11-Trm112 complexes methylate some tRNAs to form mcm5U34 and m2G10 respectively. The Bud23-Trm112 complex modifies 18S rRNA to form m7G1715 while the Mtq2-Trm112 complex methylates class I translation termination factor eRF1 at glutamine side chain of GGQ motif. Until now, the study of Trm112 network in eukaryotes has been quite clear structurally and functionally, however, little is known for corresponding proteins in Archaea.My PhD project aims to characterize the Trm112 network in archaea using Haloferax volcanii as a model organism and to decipher the mechanisms of substrate modification by Trm112-MTase complexes. This will help understanding the roles of these enzymes in protein synthesis from an evolutionary point of view.Towards this goal, I have generated several H. volcanii strains (Δtrm112, Δtrm112 Trm112-Flag, …). Co-immunoprecipitation of Trm112-Flag coupled to mass spectrometry allowed me identifying a significant number of methyltransferases (MTases), including putative orthologues of eukaryotic Trm112 partners, as potential interactors. I have next validated these new partners by biochemical approaches (co-purification, enzymatic assays, …) and determined the crystal structure for one Trm112-MTase complex. I have then convincing evidences that H. volcanii Trm12 has more MTase partners than the eukaryotic one. My work opens new routes towards the characterization of the role of Trm112 in archaea but has also led to the identification of a new MTase partner of the eukaryotic Trm112.
La traduction des ARNm est un processus très complexe qui en plus des nombreux facteurs impliqués, nécessite également des étapes de maturation des protéines et ARN pour la production fidèle des protéines. Parmi ces évènements, des modifications post-transcriptionnelles et post-traductionnelles, dont la méthylation est la plus fréquente, sont trouvées dans tous les composants et principalement chez les eucaryotes. Le rôle des méthylations dans la traduction est parfaitement illustré par la protéine Trm112, qui est un activateur essentiel pour la fonction de 4 méthyltransférases (MTase) (Trm9, Trm11, Bud23 et Mtq2) qui modifient des facteurs impliqués dans la synthèse des protéines. Chez la levure, les complexes Trm9-Trm112 et Trm11-Trm112 catalysent la formation de mcm5U34 et m2G10, respectivement sur certains ARNts. Le complexe Bud23-Trm112 modifie l'ARNr 18S pour former la m7G1575 tandis que le complexe Mtq2-Trm112 modifie le facteur de terminaison de classe I eRF1sur la chaine latérale de la glutamine du motif GGQ. Jusqu'à présent, des études structurales et fonctionnelles du réseau d'interaction de la protéine Trm112 se sont uniquement focalisées chez les eucaryotes alors que cette protéine est trouvée dans les 3 domaines du vivant. Dans cette étude, des expériences de co-immunoprécipitations couplées à de la LC-MS/MS ont permis d'étudier le réseau d'interaction de la protéine Trm112 chez l'archée H. volcanii. Celui-ci s'avère être composé de plus de MTase que chez les eucaryotes. Pour la première fois, la structure cristallographique d'un complexe Trm112-MTase d'archée a été déterminée, révélant un mode d'interaction conservé par rapport aux complexes eucaryotes malgré une très faible identité de séquence. De façon très intéressante, un des partenaires de Trm112 chez H. volcanii est orthologue d'une protéine humaine dont nous avons pu démontré qu'elle est une nouveau partenaire de la protéine TRMT112 humaine
Fichier principal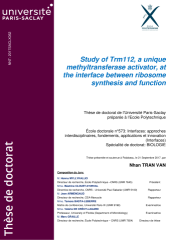 65141_TRANVAN_2017_archivage.pdf (17.97 Mo)
Télécharger le fichier
Origin : Version validated by the jury (STAR)